Vasundhara Rakesh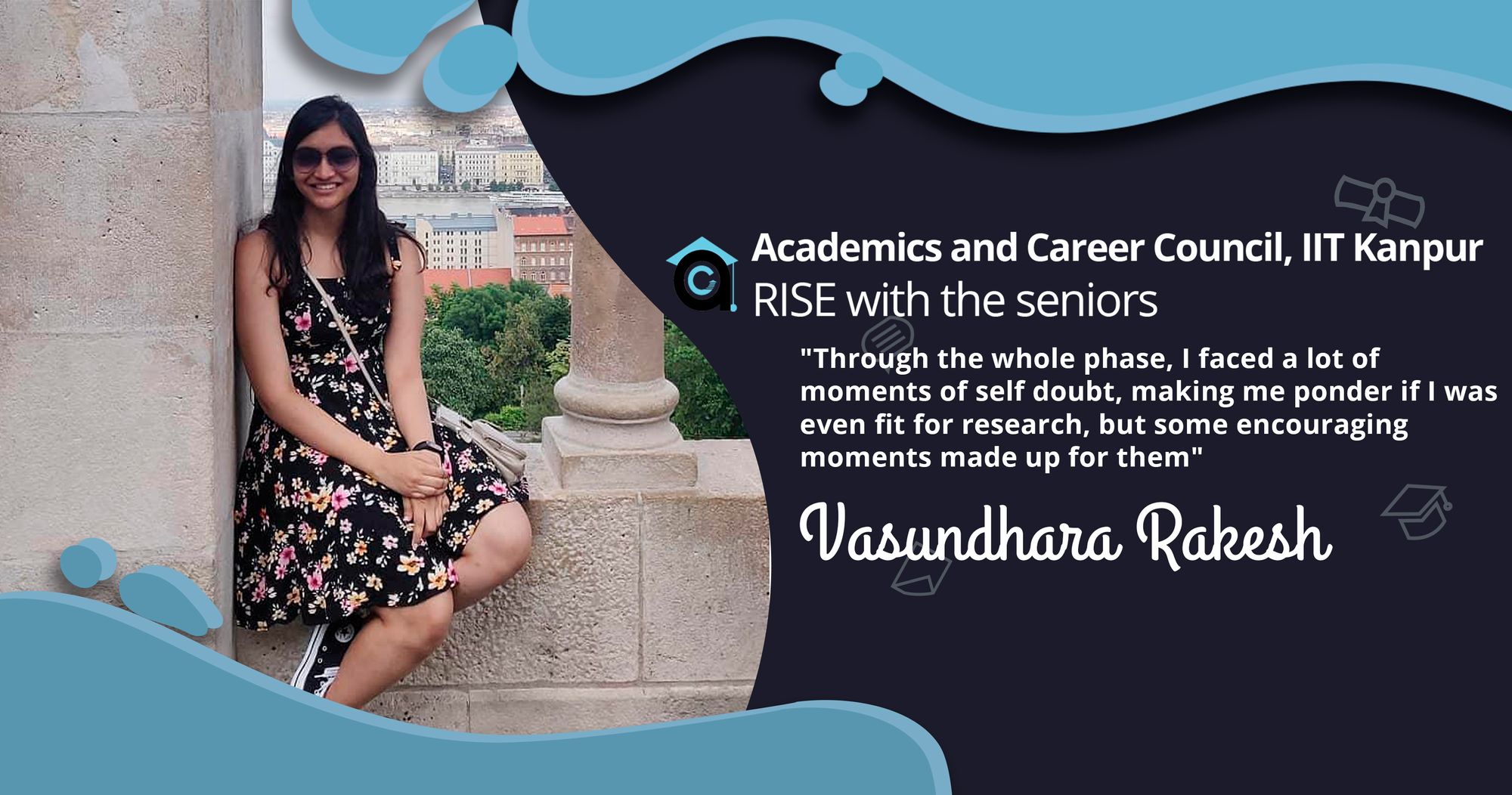 The Application


Being a double major student, I was extremely confused whether or not to sit for the SPO Internship process in my 5th semester. My first project had resulted in a couple of publications, and as a 2nd year student, I was invited to present my work at international conferences. This allowed me to learn about the latest developments on problems that intrigued me, and gave me the opportunity to interact with a lot of very interesting people. So, when the mail regarding the SPO registration for internships came in , I decided against it, and chose to focus on pursuing a research internship. I was fairly happy with my choice at the time, because when everyone else was doing mock GDs and running around arranging formals, I got to chill. But in a month's time, others already knew what they'd be doing the next summer and I hadn't even started applying, it started getting really stressful.
Applying for a research internship was a perplexing task. I started with looking at the various scholarship programs available, like EPFL, DAAD, MITACS, SN Bose, Khorana, Viterbi and many summer research programs hosted by individual universities. However, working in a very interdisciplinary field, I was unable to find any program which offered projects that aligned well with my interests. The research programs of universities, especially those in the US, are also largely restricted to students who study in the US. So I had to rely on sending out emails to professors. This approach had its own issues, because I would read an interesting paper and think I should email those professors showing interest to work with them, but while reading the work that their paper cited, I'd come across new authors and so on and on it went. Suffice it to say that by September, I had about 80 tabs open on my browser at any given time, each for a different, fascinating lab.


I read about the work a group was doing and tried to figure out how their work aligned with what I thought my interests were, and how my skills could be useful for their projects. Initially, writing a single email took 2-3 hours of work, since I tried to go through a couple of recent papers of each professor before writing to them, and also figure out which of their projects I might fit in best with. Over time, as I became familiar with a wider body of research, understood my interests better and got used to reading papers, this process became marginally less time consuming. I also developed a better notion about the specific types of problems I would want to work upon, and what additional skills I require to do meaningful work.
Over the semester, I sent a lot of emails. Some professors never got back to me. Some said that it was too early to know their plans for summer, and that I should write to them a little later. Some liked my work, but didn't take interns. Some took interns, but had no funding. Some took interns and had funding, but couldn't sponsor visas for international students. Through the whole phase, I faced a lot of moments of self doubt, making me ponder if I was even fit for research, and some encouraging instances where researchers I really look up to were appreciative of my work and suggested I apply to their labs for graduate school. I also kept trying to pick up new skills via online courses during this time. Finally, in February, I got an invite from the Rationality Enhancement Group at the Max Planck Institute for Intelligent Systems (MPI-IS) for a (funded!) summer internship.
German bureaucracy is famously meticulous (read: slow), and adding IITK bureaucracy to that meant that arranging all the paperwork was nearly as frustrating as the "apping" process itself. Since Tübingen is primarily a university town, finding accommodation is also usually tough, but I was able to find a really nice apartment which was close to the institute. Once all the paperwork was done, the Visa process also smoothly done, soon I was off to Germany!




The Experience

I was part of a team of three students working on Metacognitive Reinforcement Learning, and supervised by the PI of the group. A typical research intern's timeline starts with learning about the lab and understanding their project for the first few weeks, working on it through the bulk of the internship, and spending their final weeks trying to connect the various things they've worked on to provide a conclusive end to their project. My experience was a little different. We had a deadline for a conference in 6 weeks from the day I joined, which meant that I had to hit the ground running. I won't go into the specifics of what I did, since everyone has a unique research problem. Like most research, however, my work involved surveying a lot of literature, in addition to understanding and adding to a large repository of code which had been developed over a year, coming up with neuroscientifically-grounded hypotheses about what would explain participants' behaviour in our experiment, and validating it with the that data we had.


The first half of my internship was a mad rush to try and make a meaningful contribution to the paper. Working with a larger team on a project was an important experience for me, and one I had not had before. Discussing ideas with other students who are equally invested and excited about the same problem as you is not only very productive, but also very fun. Once the deadline was over, I got to explore the ideas that I had had earlier, but couldn't build upon, in greater depth and also consider new approaches to the problem. On the last day of my internship, I found out that our paper had been accepted, which was a splendid note to end on.
The Rationality Enhancement Group was only about a year old when I joined it, and as such, it was a small group of people who came from related yet very diverse fields. I really liked this, since it allowed all of the lab members to interact extensively and have a good understanding of each others' work. I learnt as much in our weekly lab meetings as I did in the rest of the week, and some really great ideas for our work came from other members of the lab. The non-work discussions over lunch were also very enriching, and allowed me to learn about a host of different cultures and different experiences in academia. We also had a couple of fun lab visits - one to the lab of the Autonomous Motion Department, where we got to interact with some really cool robots, and one to the Tübingen observatory, where we learnt a little about and marvelled a lot at stars.

MPI was a very interesting place to work at. A really unique aspect of MPI was that the researchers were not all professors, which allowed them to spend a lot more time interacting with their labs and engaging with the research. The Max Planck Society has about 80 institutes across the world, and 3 of them are in the Tübingen campus. This meant that I got to attend some very insightful talks in a lot of very different fields. There was also a weekly Friday beer hang out for all members of the institute, where I got to meet even more people (although the conversation was less about the work and more about how conference deadlines are stressful and what places need to be visited in upcoming conferences). MPI Tübingen also hosted a summer festival during the time I was there, with a fascinating tour of the rare flora on campus, music, barbecue, a human foosball tournament, and an appearance by an inflatable zebra.





Living in Tübingen and Travel!

We all try to visit the big, famous cities when we travel, but I'm really glad I had the opportunity to live in a beautiful town like Tübingen. The Old Town was really nice to walk around in while having an ice-cream on a Saturday and the river was very peaceful to look at. Traveling around town was very easy via buses, but I preferred to walk to work as then I got to encounter pretty flowers, mostly blue skies and lots of playful dogs. I also enjoyed the company of my roommate, and we had some fun weekends making waffles, baking cakes, watching the final season of Game of Thrones and enjoying the beautiful sunset from our balcony.


Finally, you don't go to Europe and not travel. I was lucky to be able to experience 5 countries (apart from Germany) during my 12 week stay, and as I write this, I feel like it was too little. Nevertheless, the highlights for me were the waffles and chocolates of Belgium, the Pride Parade and pizza in Milan, the Charles Bridge and beer in Prague, riding the trams along the Danube in Budapest and a fun morning exploring Mannheim while waiting for a delayed train.
My lab-mates were incredibly kind and brilliant people, and helped me a lot not only with my project, but also with how to go about exploring academia. My mentor is one of the most brilliant people I have worked with, and learning from his insightful and methodical approach to research has helped me in everything I have done after coming back. Beyond work, too, I learnt important things like how to cook and act out questions when people didn't understand English. I lived in a beautiful city, and made some wonderful friends.
Looking back, I could not have asked for more from one summer.