Sourish Mandal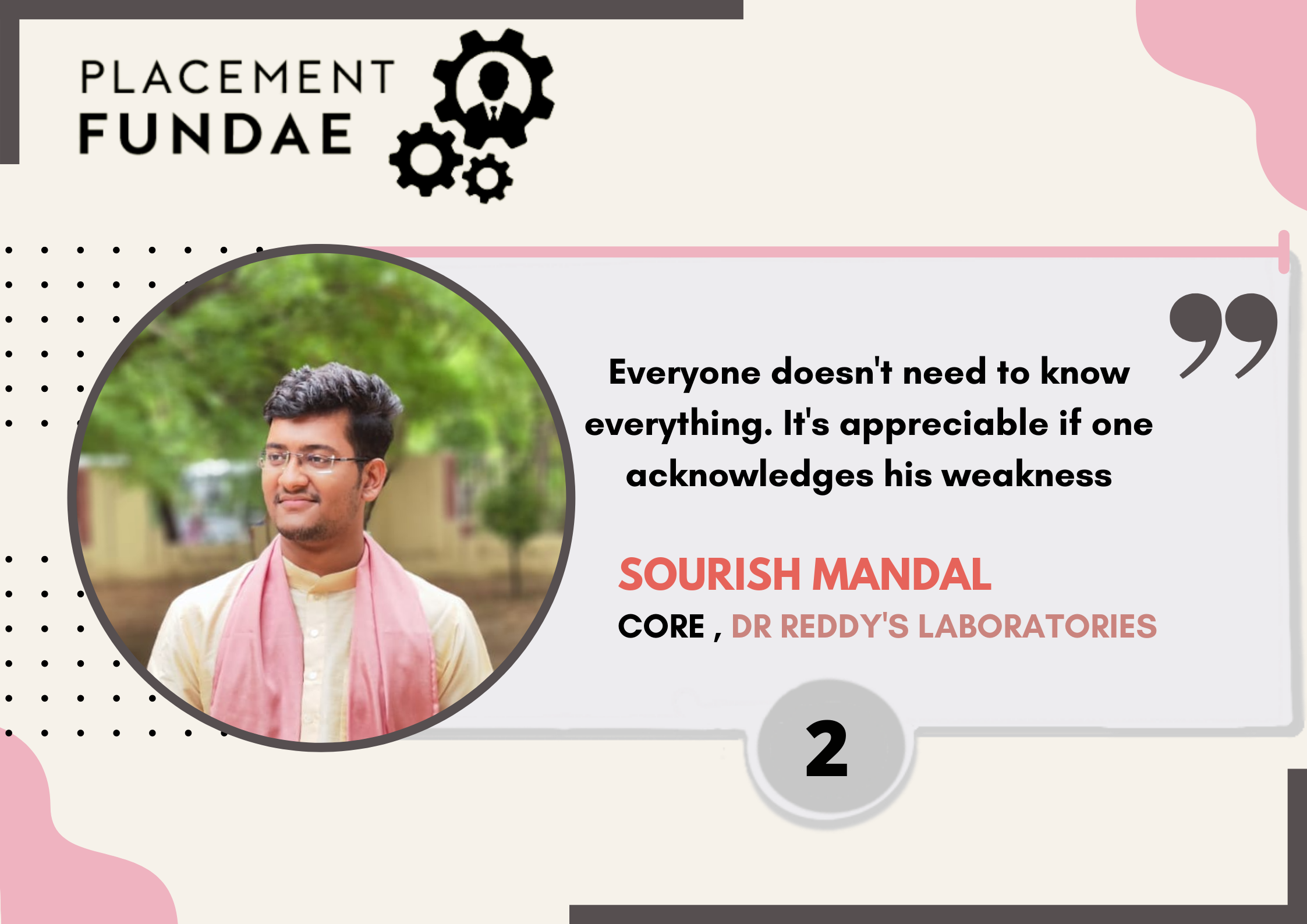 Hi everyone, I am Sourish. I graduated as a Mechanical Engineer this year. While I am inherently a Bengali, I have lived most of my life outside west Bengal. I was born in Tamil Nadu and lived the first seven years of my life there. It also is the primary reason behind my immense likeness towards curd, Idlis, and Dosas. Then I moved to Bokaro Steel City, Jharkhand, and I have been there ever since. In my free time, I like to play the guitar, sing, play football, do some photography, read novels, make drones and robots and travel around and explore new places.
My field of interest was primarily the core sector. I was always interested in robots, and making robots out of scratch was one of my hobbies. I was also part of the robotics club, worked on several robotics projects, and participated in many inter-collegiate competitions. I am also deeply in love with cars and keenly interested in automobiles. All these factors made me realize that the core sector was the one for me and that I would like a career in the core sector, either in an automobile company or in the robotics field. I was fortunate enough to be selected by one of the best companies in India – "Dr. Reddy's Laboratory" in their Young Leaders Program. As a part of this program, I would undergo training for an entire year, working on different projects with different groups and then getting a primary factory automation field after the end of the YLP program.
During the summer intern season, I interned as a policy researcher with the Chennai Center for China Studies (C3S), one of India's leading think tanks. As a part of my internship, I researched the policies implemented by China regarding Lithium-ion batteries and Electric Vehicles (EVs). I analyzed lithium-ion batteries and researched how China dominates the global lithium supply chain of lithium-ion batteries. As a part of the internship, I authored a research article titled "Lithium-ion batteries: China's Monopoly and the Indian Scenario," Based on the research done, I suggested strategies & policies that India could implement to reduce dependency on China in this field. Researching was something that I was always fascinated with, and I always wanted to know how it would be to be one. But even though the internship experience was pleasant, I realized that it wasn't something I would like to pursue a career in. This helped me align my focus better in the final placements.
Soon after the internship, I started preparing for my final placements. I focused primarily on the core sector, with a secondary focus on software development since I was also proficient with coding in a few languages. So, I planned my schedule accordingly and juggled my preparation between core and software, all the while balancing my academics at the side. Now, I knew this semester was going to be overwhelming. Hence I kept the number of courses to a minimum. Also, I was attentive in the lectures because if you properly hear the lectures, half of your study is done there. You need to come back home and revise once. This saved me a lot of time and gave me enough time to balance my academics with my placement prep. Things can also be overwhelming during the shortlisting test processes, as you can randomly test timings with just an hour's notice. The key to success is thorough with your preparation; you have the inherent confidence and mindset to win and successfully crack the tests. I mostly used the notes, books, and lecture materials I had accumulated for the placement preps while doing the respective courses. I consulted with seniors to help me with my preparation. Besides that, I also looked up various interview questions from different websites and some very nice YouTube animation videos to understand the fundamentals of fluids and automobiles.
I was shortlisted for interviews with Jaguar & Land Rover, Bajaj, Dr. Reddy's Laboratories, Tata 1mg, ICICI bank, MathWorks, and American Express. There were also some more software companies scheduled on the 4th and the 5th days of the placements, but since I had already frozen the offer by Dr. Reddy's, I didn't sit for those companies. Overall, it was an enlightening experience. The JLR interview was very early in the morning, and the panelists included an alumnus, an Indian executive, and an executive from their British office. At first, they quizzed me on some general mechanical topics like hardness and toughness and then gave me a temporary problem. Some HR questions followed this. The process was a little disruptive as the British executive had a thick accent, and it was sometimes tough to understand him. But overall, it was a good experience. Next up was the Bajaj interview. The technical interview went very smoothly, with the panelists asking me general mechanical interview questions and following them up with questions about automobiles (as I had said that I loved automobiles in my introduction). The HR round was conducted late in the evening over a phone call. The interviewer was very friendly and appreciated some of my answers. It was pretty good. The American Express interview was also scheduled on day one, but I skipped it because I had not prepared much for case studies and wasn't confident about it. However, I later came to know from my friends that the questions asked in the interview were intuitive. A little bit of regret for that.
I only had technical interviews for Tata1mg and MathWorks. Both profiles were software related. The Tata 1mg interview was very smooth and, as a matter of fact, enriching, with the interviewer having some good technical discussions with me. The MathWorks interview, however, was one of the worst, as it had all kinds of problems which at a point caused me almost to want to leave in the middle of the interview. But I didn't let the bad experience demotivate me and went on to interview for Dr. Reddy's Laboratories (DRL). The GD for DRL had already happened, and it had gone well. Three panelists conducted the PI process with a suite of technical questions and an application-based question, followed by some HR questions. I was able to answer all the questions in a satisfactory manner. Next up was the ICICI bank interview. It also consisted of a GD round followed by a technical round. The GD topic was related to social media usage, so that I could handle that pretty well. The technical and the HR interviews also went smoothly, with the former primarily focused on my projects and interest in the stock market.
The selection process comprised of three stages:
Resume shortlisting and technical test – The shortlist for the technical test was based on the resume—the MCQ-type test with questions from core mechanical and chemical domains.
GD – Shortlisted for the interview was followed up by a round of GD. The GD topic was a mechanism used to convert slurry into dry cakes for further processing, and we were required to give different ways to improve the current mechanism.
Personal Interview – A personal interview round followed up the GD round. In my case, the technical and the HR rounds were conducted by the same panelists in the same interview.
The interviewers always look out for people who are confident about themselves, clearly understand what they want to do in the future, and, most importantly, those who can contribute to the company's growth. Make sure to frame your answers in such a way as to check up on all the above points. Also, it's vital to capitalize on your strengths during the interview. If given a chance, try to provide direction to the discussion by highlighting the points essential points in your introduction.
If you don't know the answer to a certain question, it's okay to let the interviewer know that you aren't sure about the answer. Everyone doesn't have to know about everything, and the interviewers appreciate that the person can acknowledge his weaknesses.
Some dos and don'ts for the placement process:
Dos :
Prepare well beforehand to be confident in the subject matter and know your strengths and weaknesses.
Work on getting better at the topics you are weak at.
Capitalize on your strengths during the interviews.
Remain calm and composed, and answer whatever you know with a smile.
Don'ts:
Panic or let emotions control you during the interviews. Even if a few interviews go wrong, don't let bad feelings or the notion of failure overcome you. Instead, analyze those interviews, find out what went wrong, and work on getting them right the next time.
Beat around the bush if you don't know the answer to a certain question. A calculated guess is always a good option, but if that's not the case, then it's okay to let the interviewer know that you aren't sure about the answer to that question. It's alright because everyone doesn't have to know about everything, and the interviewers appreciate that the person can acknowledge his weaknesses.
Get overwhelmed or depressed by how good everyone else is preparing/ performing. Just focus on doing your stuff properly, and be sure to give it your all, and you will surely be able to come out with flying colors.