Yash Srivastava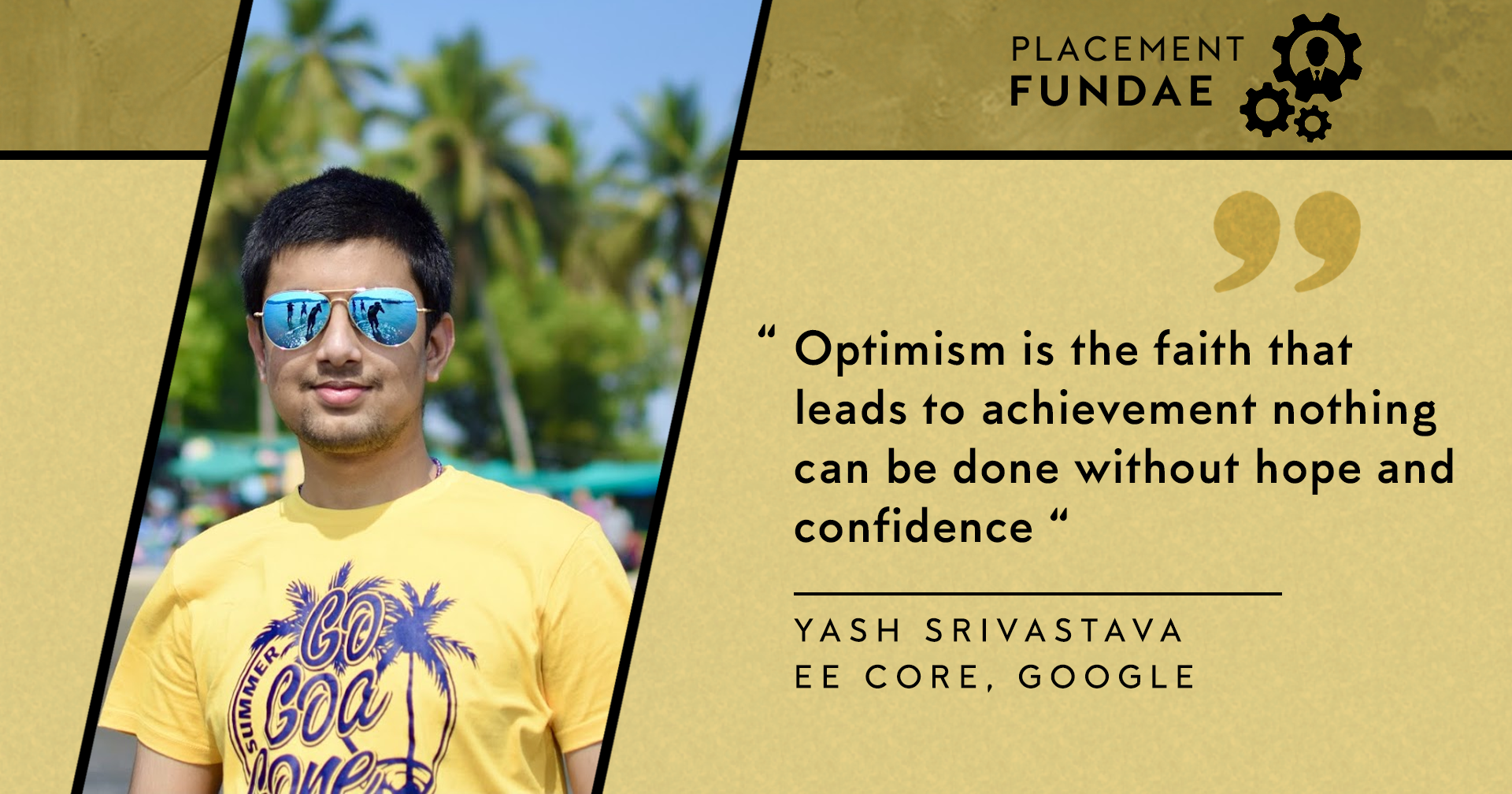 Hello friends! My name is Yash Srivastava, and in this blog, I will be sharing my experience of the placement drive 2020-21. Life at IITK is full of surprises, and I am sure you all must have had your share as well. The placement drive is one such event that never fails to surprise us.
---
Past Experiences:
My placement at Google Hardware was like a bolt from the blue, at least for me, who was expecting to be placed at a company like Texas Instruments or Jaguar Land Rover.
My internship at Texas Instruments ended on 29th June, and I had not impressed my manager a lot to receive a PPO and hence had to sit in the placement drive.
Though I had a keen interest in the microelectronics and VLSI domain but failing to get a PPO at TI got me thinking that I should also explore other fields. I started my preparations in the month of July with UPSC CSE as a backup plan in case I didn't get a good placement.
Preparation details:
We were asked to submit our resumes in August, and the placement portal was activated in the month of September. It was the first time the drive was being conducted entirely online due to the COVID 19 pandemic. I had planned my semester accordingly and had taken courses that would help in placements like Analog VLSI design (EE610) and Power electronics (EE660). These courses ensured that all my concepts of the core EE domain were strengthened, and I only had to focus separately on programming for software roles.
Luckily, I found these videos - https://www.youtube.com/channel/UC5WO7o71wvxMxEtLRkPhiQQ (Aditya Verma)
https://www.youtube.com/channel/UC0zvY3yIBQTrSutsV-4yscQ (Code NCode)
that helped me prepare for programming tests.
Placement Season:
In October, the placement tests were in full swing, and we were giving back-to-back tests starting from 7 PM. The October-November period was a tough one. With coursework piling up and tests happening along, my friends and I were all stressed out. Nevertheless, we had regular zoom meetings for chilling out or discussing questions and prepared collectively.
After giving tests for more than 100 roles and 50-60 companies, it was the result time. The shortlists started to appear on the portal about one week before 1st December (Day-1), and my name was there for almost every core profile job. The shortlisting was done mainly on the basis of tests and resumes. My internship at TI also played a significant role in getting shortlisted in core profiles. I was shortlisted for interviews for the following roles- Google( Hardware Engineer), Texas Instruments(Analog & Embedded Software), Apple, Jaguar Land Rover (GEET & GSET), Enphase solar energy(hardware), Samsung semiconductors, Hilabs, Jio, and Qure.ai. Google had organized an Interview Preparatory session two days before the actual interview, and the tips shared there were quite helpful. And then it was showtime; day 1.1 began at 12 AM on 1st December.
I had to appear for four interviews in the first slot, and I had made sure to give my best as the Endsems had been postponed, and I had got  2-3 days to prepare for the interview.
The interviews began at 12 AM with Google being the first company. After 1 round at Google, I appeared for TI embedded software role. I had to cut short that interview by telling them that I was more inclined towards hardware roles as I was getting messages to appear for the second round at Google. Soon after, the third round also happened, and I was left wondering what had just happened. My performance in the three rounds was okayish. I had stumbled upon a few questions, and I didn't know how the interviewers perceived that. After that, I appeared for back-to-back interviews at Apple and TI (analog profile). By now, it was 4:30 in the morning, and I was expecting more rounds at both these firms. My interview at TI was the best of all the interviews that I gave, but to my disappointment(at that time), I was informed that slot 1 was over. Now it was around 6 in the morning, and I was utterly exhausted and went to sleep after having breakfast thinking about what I could have done better. Others were getting messages about selection and had started celebrating. I woke up at 10, took a bath, and got ready for my next round of interviews in the next slot. I was added to the WhatsApp group of candidates that were to be interviewed.  However, after 10 minutes, I was removed; on further inquiry, I was told, "Aapka ho gya." I could not believe it. I didn't know who hired me, but there was a feeling of relief. I took a photo dressed in the placement attire before removing it. At around 2 PM the list appeared and I couldn't believe my eyes. I was selected in Google Hardware, and then came a flurry of phone calls. The first one being from Aryan Choudhary, who himself was hired by Uber. The entire placement season had boiled down to this very moment. In the next few days, my other friends also got placed, and I was off to a Goa trip along with them.
In the end...
My advice to my juniors would be to back their instincts and just follow their passion. And all's well that ends well. Getting placed is one of the best feelings in 4 years, and hopefully, I'll be hearing the same from you all as well.
Thank You!