Piyush Patel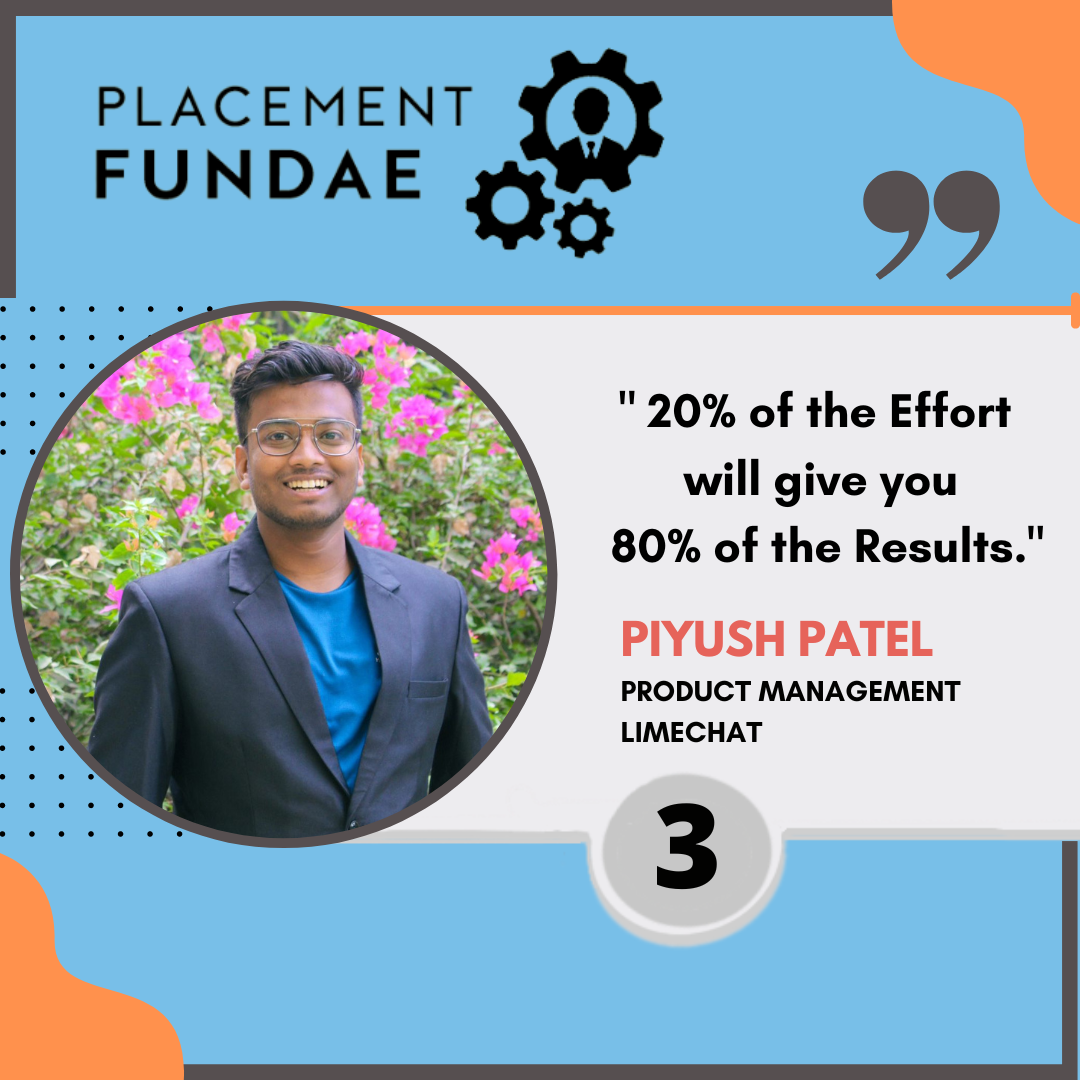 Hi everyone, I am Piyush Patel, I graduated after completing my Master's in Economics, and my Bachelor's in Civil Engineering.
A bit of background, I am from Lucknow, and I joined IITK in the year 2017, in the Chemistry Department. After the first year I got my branch changed into Civil Engineering and later I went on with my MS in Economics. Right now I am working as an Associate Product Manager. Agreed, it has been a very logical career progression. LoL
During my undergraduate years, I dabbled in a lot of areas. Right from heading the institute's Aerial Robotics team to heading Community Welfare Cell, headed an NGO of over 30+ members and we worked to organize Blood Donation Camps across Kanpur City. During Covid, I started my YouTube Channel & ran my own startup. I worked as a secretary in the aeromodelling club, public policy, and opinion cell (then student opinion cell).. in my initial years at the college.
Until Covid, everything in my life was going smoothly. If it didn't happen, I would have been on a different trajectory. I wasn't able to secure an internship during my 3rd year of campus internship drive. Like me, there were many of my friends who were not able to secure an internship. I could see them trying on LinkedIn, and Internshala to secure an off-campus internship but this wasn't something I wanted. Covid felt like an opportunity to me; I always wanted to try my hands in content creation, so instead of looking for an internship, I went all planning, scripting and creating videos. Call it luck; my channel boomed. Within 2 months of running my channel, I went ahead with an idea and started my startup named UnchaAi with an alumni of y15 batch. After  The startup was successful and we were able to capture a sizable profit, Campus placements were coming but I wanted time to experiment with my startup idea. Working on a startup idea is feasible with studies but not with a job. I decided to go for a Master's in Economics, this gave me two advantages, firstly I got time to work on my startup, and secondly, I could sit for campus placement next year if things don't work out as planned.
Why did I choose economics for my MS? - During Covid I spent a lot of time reading books on behavioral economics (Thinking, Fast and Slow by David Kahneman, Predictably Irrationally by Dan Ariely to name some), and this got me interested in Economics.
Things were going well for quite some time. We were able to expand and grow the startup, working in an EduTech domain with big players like Unacademy and Byju having resources to crush you anytime they wanted wasn't easy. We were struggling to raise funds. Having worked for around 1.5 years on a startup it was a difficult choice for me to choose between continuing with my startup vs Campus placements.
Placement Preparation
Again, a bit of background. I am currently working as an Associate Product Manager for Limechat, and I believe for Product related jobs there aren't any formal preparations that you can go for. Your actions and your experiences define if you are meant for this role.
Steve Jobs rightly said "You can't connect the dots looking forward; you can only connect them looking backward" Now when I look backward, I can really feel this quote. While working in clubs, with team to crack hackathons and competitions, organize blood donation camps, and raise funds for my startup. All these shaped me into who I am today.
Just a month before my placements in November of 2021, nine days before campus placements, Seeing limited growth I left my startup and sat for placements. Unlike my friends who were preparing for placements months before I did zero preparations. All I had was a resume, my 5 years of experience, and a few bits of advice from my friends who cracked placements.
During the last week, I watched a couple of YouTube videos that focused on last-minute tips and checklists for HR questions. Somehow things worked out and I cracked the placement in my first interview itself.
Not to brag but this was the first interview I ever gave in my entire college life.
My Resume Making Strategy
When I was working for my startup, I focused on the marketing and product side. Having worked in the marketing domain, I was able to think from a consumer point of view, I took my resume as a product and formulated every point keeping in mind the interviewer (end consumer).
In my case I realized that the interviewer would want to see things like my problem-solving skills. I highlighted the problem and the impact I created while working on those problems well.
The second thing is, for each and every achievement, project or experience I had, I broke it down in simple and concise English and gave all the details and my contribution and how I helped (in case it was a group project). I kept it strictly to the point and removed all the vague points. Each and every point should make an impact and should speak about your personality.
Coming to reviews, I didn't have the time to get reviews, so I just got it from some seniors who were already set and experienced in the industry. This is because they have the experience in the field and better help in identifying the gaps etc., I took their feedback and reviews and sent my resume to SPO.
Last minute preparation tips
Generally, people start preparing from almost 4-5 months before the placement drives, while I had started preparing from only one month prior. My anxiety and stress levels were off the roof. I was very scared since I had forgotten all the coding I had learnt; I did not even know SQL which meant that I would not be able to pass the analyst interviews. I realized that my only choice was product management. So, what I did was, I called my friends who already got placed and they helped me a lot.
There is something known as the Pareto principle, which says that 20 percent of your efforts will give you 80 percent of the results. Focus on that 20 percent of the things, and that will cover 80 percent of the results. I did the same here as well.
Don't forget to look at puzzles and questions. All in all, the HR interview is the most important thing. All your technical skills don't matter here, your communication skills with clients etc., matter a lot. Prepare well for the HR interview. I looked at all types of HR interview questions, looked at all possible ways to answer them etc., 50 percent of my time was spent in preparing HR type questions, and the other 50 percent of the time was spent in solving puzzles.
Final Interview Day
The interview I had given for Limechat was my first interview. I had never given any interviews before either for internships, job, off campus internships etc.,. There is always that feeling of anxiousness and nervousness.
Even though I had no experience giving an interview, I've had a lot of experience taking interviews while working on my startup. So, I knew what exactly the interviewer wants to hear and what points will judge you for. In that sense I had a bit of an edge over my peers.
Both rounds of my interview went really well, and that day I got a call from a friend from the company, who asked me to drop from the placement drive as I had already bagged the job!
For roles such as Associate Product Manager or Product Manager, there are usually two rounds in the interview. In the first round they usually give a problem statement and ask to make a presentation on it. There sometimes is also an aptitude test.
Coming to the HR interview, it was very chill. They just want to hear my story, the why behind the decisions I made. All the while, they can easily judge your personality and understand you. They can find out if you are a fit for the company. So, think twice before speaking, because every word you say will decide if you get the job or not. In my case they asked me normal and regular questions, all the cliché questions like "where do you see yourself in 2 years" etc.,. My interviewer was concerned as to why I wanted to do a job since I had an entrepreneurial background. He was worried that I'll do the job for 6 months and leave to another startup. The whole Interview I had to convince him that I was willing to work for the company.