Palak Agarwal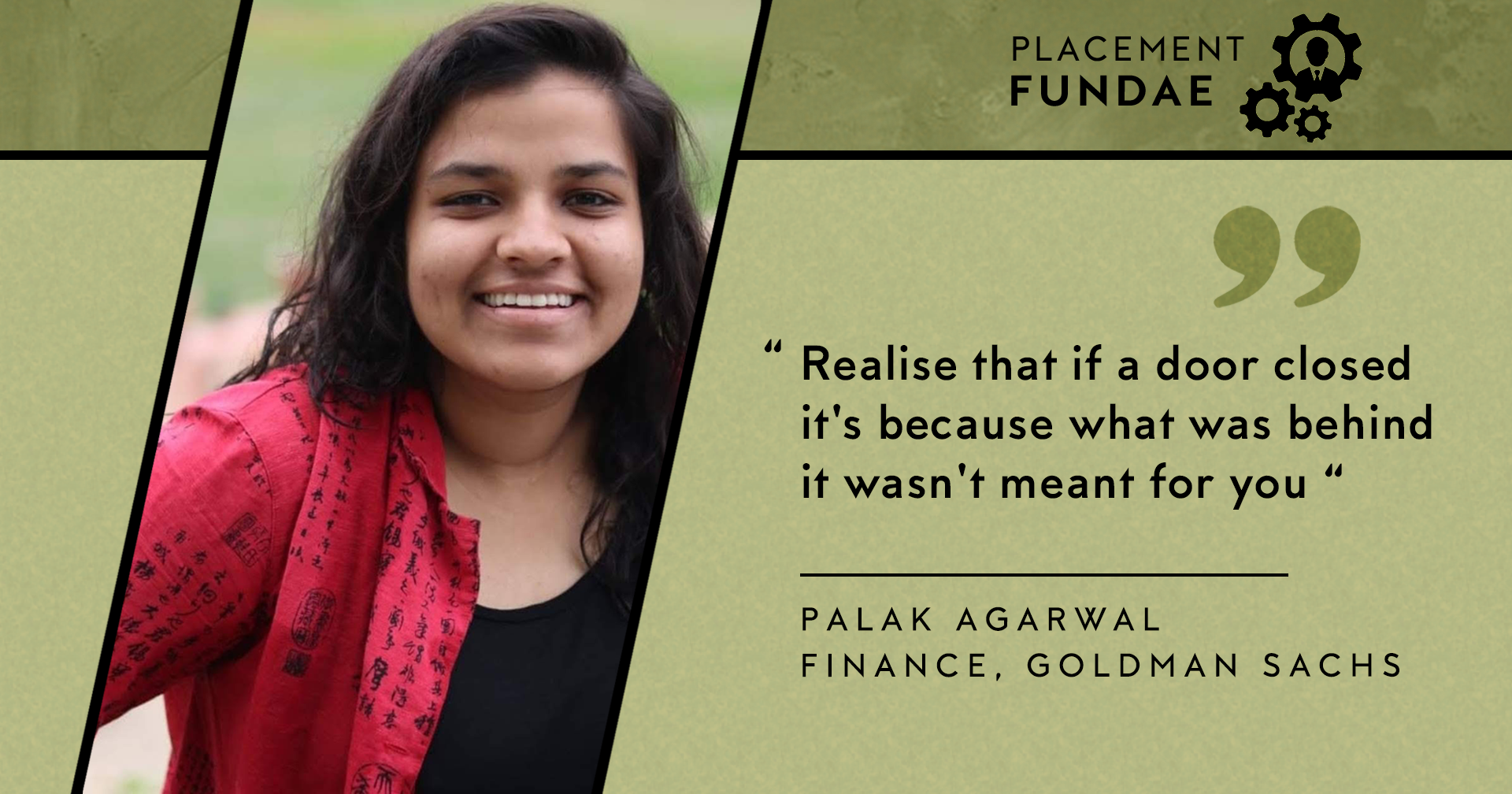 Hola, I am Palak Agarwal, a Y17 UG from the department of Economic Sciences. I have recently graduated, and currently, I am working as an analyst at Goldman Sachs. Right now, I am based out of Udaipur. As for my hobbies, I like to try different things, travel and explore different places, dance (on my own obviously), and just lie around uselessly XD.
---
Field of Interest:
So, as I mentioned, I am working as an analyst. My daily work revolves primarily around developing models and coding those models to automate the system. I am learning many new things doing this, but I am still not sure whether this is my field of interest or not. I still have to figure out where my interest lies and what I want to pursue further.
---
Past Experiences:
In the summers after my second year, I did an internship with TVF, just for fun. Work was quite interesting there. But that was not relevant to any of the companies from the placements perspective, and I didn't include that in my resume.
After my third year, I did an internship with the Reserve Bank of India, where my work was around how we can use Market Intelligence to detect upcoming defaults in the NBFC sector. The work there was also pretty interesting. I learned a lot, but I would say I could have learned more provided the intern would have been in office, but let's not go there. XD
---
Moment of Realization:
I won't say that the field I am currently working in was something I chose for myself. While sitting for placements, I knew that I didn't want to go for SDE profiles, and there was nothing as a core for our department. I just wanted a decent-paying job after college. Hence I was open to any opportunity which I could grab on. I think that this might be the case for most of you as well. And as I mentioned, I am still not sure whether this is something I want to pursue in the long term or not. I am just exploring, learning as much as I can on the way.
---
Placement preparation timeline:

So as our internship season started after the second year, I had no idea what I was supposed to do, where, or what I was supposed to prepare. And that was mostly because I was too ignorant towards my academics till that stage. As a result, I was not able to score an internship through SPO. I was disappointed with myself, and around September, I was sure that I wouldn't be getting any good intern at least through SPO, so I decided to focus on my placements instead. I didn't start preparing then and there, but I started talking to people and collecting the resources. As for preparation, I think I started it full-fledged only in March when we were sent home for the lockdown. So in summers, I was preparing for placements and doing my internship simultaneously, and being at home was kind of a good thing here, as I didn't have to travel to the office, which meant more time for placement preparation.

Coming to resume preparation, as far as I can remember, I gave it a week or so before the MBB came for placements. I got it reviewed by many seniors then and there. Hence, I gave it very little time during the SPO submission time. I made some quick changes by myself and kept making minor edits as and when any senior pointed out any mistake.
For placements preparation, as I said, I was not aiming for SDE profiles. Initially, I was seeking a data scientist role, but soon I realized that I didn't know enough ML to apply for those, and there was not much time left for learning it as well. So my preparation mainly was around these six pillars: coding, aptitude, puzzles, cases and guesstimates, probs and stats, and basic finance. For coding, I followed GFG and InterviewBit. For aptitude, I took a Prepleaf course which taught me the basic concepts and helped me solve sample test papers. For puzzles, I solved all the levels of puzzles from Brainstellar. Cases and guesstimates were mainly done in pairs or groups. I followed the IITB's case book for cases and some random links to look for guesstimates. I revised most of the probs and stats concepts from YouTube. And lastly did some finance from JCHull, and some from the Zerodha Varsity.

Placement season:
For day 1, slot 1, I was shortlisted in 4 companies: GS, JPMorgan, PwC, and Finmechanics. I interviewed for all of them. Starting with GS, they took two technical rounds simultaneously (because of which I was late for my other interviews). Both of them were technical. Other students also had an HR round after that, but I did not have one. After the two rounds from GS, I went for a JPMorgan interview. I just had a single technical round there, which I would say wasn't really that good for me because of many reasons, but primarily because of a communication gap between the interviewer and me. After that, I had my interview for PwC, but I think I was already too late for that interview because as I was giving my first round of interviews, they were taking third rounds of other students. The interview was a general case study. And lastly, for Finmechanics, although the profile was of consulting, they were mostly asking coding and OOPS-related questions. As for the competition, I knew that it was there, but because of the online mode,  I was not able to get much sense of the intensity of it. That was a good thing because I think I would have been more nervous around in-person competitions. For slot 2, I had two shortlists: American Express and BlackRock.
---
In the end...

The tips I would like to give are very general, which I think every other person also provides, and I think those are important. So I would mention them again, lol.
So, first of all, don't be scared of placements or internships. Being nervous is okay, but at the same time, you need to be confident. You should believe in whatever you have prepared because deep down, we all know how much we have prepared and what we deserve at this stage.
Secondly, it's never too late to start. There is no fixed timeline as to when you should start preparing for a particular company or profile. It is always better to start at some time than never do it.
Thirdly, give in your 100%. You know your worth and what you are capable of.
Whether or not you secure a good placement or intern, at last, there should not be regret with you that you did not give your all, and you could have done better. Believe me, that is the most disheartening thing. Also, never be afraid to ask for help or advice, whether from your batchmates or your seniors. I know there is a feeling of competition during these placements, but working in a team will always be better than sailing the boat alone. Talk to as many people as you can. You will always get to learn something new from everyone.
Next, these companies are not the end of the world. It indeed helps give an excellent start to your career, but even if you don't get into a good one now, there are a vast number of opportunities waiting for you out there in the real world. And I have seen people who did not even sit for the campus placements as they had already found their interest and know what they want to do in life.
Lastly, have fun. Explore as much as you can, and everything will start to make sense at the end. Everything will fall into the right place. I am a strong believer in the concept that whatever is happening is happening for a reason. Good things give you memories, while bad things give you experience. So just go with the flow, have fun and achieve great things.