Kavya Agarwal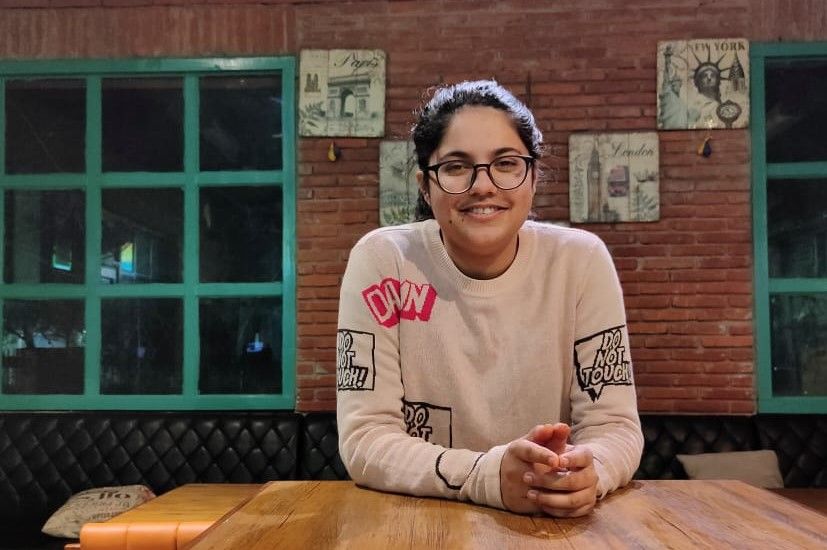 The beginning:
You have to start from somewhere! That is the answer to the question - "How can I work on a project under XYZ Professor? I don't know anything about their work".
Hi everyone, I am Kavya Agarwal, a Y19 in the Earth Science department. Like many others I chose my department without having much idea about Earth Sciences or even what subjects it may cover. I feel that undergraduate and specially the first three years of the undergraduate should be spent to better understand what all fields are there in not just in your parent department but exploring different opportunities IITK has to offer. This can be done by taking up courses, joining clubs, pursuing projects (both academic and corporate) during the summers and in the winters or even during the semester (if things don't get too hectic) and in general interacting with as many people as you can.  

Personally, I don't think the dreaded corporate vs research dilemma has been an issue for me for quite some time now. It was very clear to me from my first year onwards that I am going to spend at least one summer pursuing an academic internship. Although now that I look back, this clarity was not present at the very beginning of my first year. Since for most of us we are not academically introduced to our parent department until the 3rd semester. But when I came into the second year (and was introduced to some departmental courses) I began enjoying some of the courses and that was when I started thinking of reaching out to some professors for possible research work, both in IITK and otherwise.
Online semester:
Online semester seems to have its pros and cons in this regard. In the online semester, reaching out to professors in foreign universities even for projects during the semester became a reasonable option, but at the same time the possibility of doing any kind of experimental or field work became out of the question. Also, getting funding used to be a major hurdle in pre-covid era but now one does not need funding for travel and lodging in the online mode thus increasing the possibility of getting an internship. Personally, one of the professors I am currently working with in University of Tokyo actually mentioned that they did not take interns in an offline mode since it was difficult to gather funding for the student but they have been actively taking up interns in the online mode!
Developing/Exploring interests:
For me, it was one of my 3rd semester DC courses (ES311T) after which I thought of applying for a research intern role and started actively trying to find out more about the process of landing a research intern. This course finally led me to apply for SURGE in my 2nd year summers under the same professor who took this course.
Towards the end of my 3rd semester, I had started to reach out to some seniors (mostly Y17s) who had done a foreign research intern to get guidance about the application process. Around September of 2020 I remember reading all the RISE blogs on the AnC page, talking to seniors pursuing research projects and trying to gather as much information as I could about pursuing a research intern/project under a faculty member.
By this time, I had had conversations with my family about me being interested in pursuing a research intern instead of a corporate intern and was trying to gain some research experience. Since my elder sister also did one in her second-year summers, they were not that surprised by the news. And for the very same reason I too had some vague idea that one needs to mail the profs showing interest in their work and the desire to do an intern under their guidance in summer and then the whole conversation goes about (if at all it does). Along with mailing professors I also looked for summer intern programs to apply to (but ended up applying to two only). This brings us to the two broad ways you can get a summer research intern.
The two approaches to land an Internship:
1.    Either reach out to faculty members/researchers individually via email (apping), or
2.    Apply in dedicated summer/winter intern programs
The former approach seems quite trivial. You find a faculty member from the faculty pages of various universities, look into their research interests and recent publications, see what research field they (or their research group) are currently working on and see if you find it interesting. If you do decide to write an email to them expressing your interest in working on a research project under there guidance - make sure you mention your prior experience (if any), a brief description of your skills and any other relevant experience you might have (that can also include courses that you have undertaken at IITK or through online resources). Remember not to blindly spam people during this process. Ensure that you are writing a personalized email to each person expressing your interest in their specific research field. Many students tend to write a generic email and copy paste it to multiple people. Do not do this. Try to relate your academic interests to their research. Also, one does not need to write a full-length cover letter for this. Through my personal experience I have felt that a three-para email with your latest CV attached is sufficient. The first para of the email can be used for your brief introduction and expressing your future academic goals. In the second para you can briefly describe your skills and relevant experience and mention the area of research of the concerned faculty member you found interesting and would like to explore further through a project/internship. Lastly, make sure to mention some brief logistics regarding the internship from your side - whether you are looking for an online internship or an offline one and also mention the duration where you are available to pursue the internship.
The latter approach is a bit different from simply reaching out to professors whose research you find interesting. When it comes to dedicated research intern programs you need to apply on the specific application portal of the corresponding intern programs. For that one usually needs one to three Letter of Recommendations (LORs), latest CV, a cover letter or a Statement of Purpose (SOP), and in some cases a personal statement as well. You can easily find out what these documents mean by searching on the internet. In case of an LOR your best bet would be to reach out to professors who might know you personally through any course project (or any project for that matter) you undertook under them since such faculty members would be able to write you a better recommendation since you (in most cases) would have interacted with them more. If there isn't any professor who might know you at a personal level the next best thing is to reach out to professors under whom you did a course and got an A* or an A grade. Make sure to reach out to the faculty member well in advance (ideally more than a month) for the LOR and not right before the deadline of the application since most of these programs have a hard deadline since it would take some time to write a personalized LOR for a student and for the program. Some faculty members might hand you the LOR but most of them would share it directly to the program through email or submit it at the portal since LORs are not supposed to be read by the concerned student. Coming to SOPs, cover letters and personal statements make sure to not copy paste things from the internet and write your own version for each of these documents. They need to reflect you, your skills and experience and journey and why you think you are fit for the program you are applying for.
Personally, I ended up applying in just one program from Stanford in my second year for the summers and quite expectedly didn't get in. Recently I applied in the MITACS program and did get selected but ended up not accepting the offer due to other plans in the coming summers.
More about MITACS:
The most tedious task in MITACS application was choosing and ranking projects out of the available choices. I was targeting projects in geophysics and planetary sciences. It's best to have some idea of what kind of projects you want to work on while applying to projects and search based on the department that project falls under due to the large number of projects available. After you have decided your field of interest you still need to spend a good amount of time to find the perfect balance between your interest, the university, the professor, your compatibility with what skills the project demands and what it offers as a learning outcome. The project descriptions are very well written themselves and you can always refer to the homepages of the respective faculty members to learn more about them and see if their group seems a good fit for you and if they would find you as a suitable candidate. Next comes the interviews for MITACS. I had two of them and they were both a little different. None of them felt like an interview per se, rather they seemed like a conversation in which the professors just wanted to know more about me, we talked mostly about my past projects and what kind of technical skills I had. Towards the end there was also more discussion on the MITACS project itself and what kind of roles and responsibilities I would have in it if I do get selected for the same. Please note that there were many people who did not receive any email from their professors for an interview and directly were given an offer for their projects. And there is also a second round of selection in MITACS after the first one where some additional students get an offer.
There isn't any exhaustive list of such intern programs, but the list provided on the AnC site is a good place to start. Do look out for the deadlines of these programs. Some of them end as early as August and some in Feb as well. Most Universities have summer intern programs for all departments, although there are some that are open to some specific research fields only. Some of such programs are DAAD, MITACS, SN Bose (was not there this year), NTU India Connect. Caltech, University of Tokyo and Lunar and Planetary Institute NASA also have their intern programs. These are just some that I remember. You can find many more on google and AnC also shares an excel sheet providing details of some others. But try finding yourselves on google as well.
My experience (application phase):
Coming back to apping and how I got to work under professors at IITK, University of Tokyo and UCLA. "Apping" is a popular lingo given to the process of applying to universities abroad. At least this is what came up when I googled for a definition. In plain sight, it does seem quite straight forward. Broadly speaking the steps are as follows.
1.    You look on faculty pages/research groups of various universities
2.    Filter out the faculties based on your interest
3.    Email them stating your interest in their research, desire to work as an undergraduate research intern for a given time duration
4.    Get a yes from their side, else move on and email the next professor.
Once you get a hang of it, the first three steps aren't that difficult. The difficult thing is that one (usually) must repeat this entire process a considerable number of times before actually getting that yes from someone. Being a bit over-enthusiastic about getting a research intern I wrote to quite a few people towards the end of my 3rd semester and in my 4th semester in the months of Dec 2020 to Feb 2021. At the time I was looking for an offline internship and with all the travel restrictions it just wasn't going to happen. I did get one reply from a professor in Oxford saying that if the situation gets better around summer, I can try reaching her again. But that obviously couldn't happen due to the second wave of COVID-19 in Europe. By this time, I had started working on a project that was co-supervised by two professors from IITK and continued to work on that project throughout my 4thsemester till this day.
In the very beginning of my 5th semester (after adding my SURGE intern in my CV), I had reached out to faculty members of various institutes that aligned with my specific research interests and was almost sure of not sitting in the SPO internship drive. It usually is a very tedious task to mail people individually since one usually gets 2 to 3 replies after sending out 20 to 30 emails and those few replies are also negative ones. At his stage I found myself checking my inbox way too often at this stage wishing for a positive response but not really expecting one.
The usual replies majorly include lack of funding, lack of space in the research group to accommodate additional interns, positions already filled or outright rejections. Most of the time one would not receive a reply at all. I personally used to send one reminder one week after the initial email. The process of searching for possible supervisors, looking through research groups and faculty pages of dozens of universities itself helped me know more about the plethora of research being conducted in my field of interest which mainly revolved around computational earth science, remote sensing and geophysics.
Throughout my 4th and 5th semester I sent out a lot of emails. Some professors got back to me, many did not. Some said that I was too early to apply, some said I was a bit late, and they had already accepted some other students for the intern position. Some said that they don't take interns but wished the best for me. Some suggested that I email them again when I was thinking of applying for a PhD position. Throughout the process I faced a lot of moments where I wasn't sure if I would get any positive response and moments of self-doubt as well and some moments where I was encouraged by researchers, I looked up to them being appreciative of my resume as an undergraduate student with some prior research experience.

Finally, through some luck I got two positive replies from two different professors around the same time in September and since the past few months, I have been working with a professor at UCLA on simulating mantle plumes and am planning to go for an in-person internship in the coming summer at the institute. Apart from that I have also been working on a separate project under professor at Earthquake Research Institute at University of Tokyo relating to monitoring land subsidence using satellite data.

My intern experience:
In both my projects I have been involved in weekly meetings with the professors where we discuss the task assigned for the previous week, doubts I had in it and then move on to setting some small goals for the next week. In both the internships in the initial days (one to two months) I was involved in literature review of corresponding topics. And was also given some freedom in choosing the "final" research project out of a few options given to me at the time. The word final is in double cots since I feel that the project topic wasn't really fixed through the first few months and evolved based on various other parameters like the data availability, project reliance and even my existing skills and knowledge of the topic.

I feel that for me the two interns differ in the expected outcome from them. In one of the projects we have well defined data that we are analyzing and hoping to get some results that would be of value and can lead to a publication at some point. On the other hand the other project is more of me trying to learn a specific software and recreating laboratory results through simulation given similar conditions to make sure that the simulations created are actually of some real world relevance, which might not lead to any new research directly but help me to develop my skills and at the same time know more about the project topic which mainly revolves around mantle plumes. Although we are also planning to conduct some new laboratory experiments in the coming summers through the in-person internship along with the simulation part.
Some miscellaneous thoughts:
It's okay to not land any opportunity with days and months of trying to find one. One should not distress over negative responses or the lack of any response at all while reaching out to possible faculty members.
Try to develop skills by working with professors at IITK doing course work and finding areas that you find interesting and wish to explore further though an internship or a research project. Well-established research experience sparkles more than your CPI!
Make sure to format your CV well. Get it verified by multiple seniors. One page CV is fine, but you can go for a 2-page CV as well. Your CV is the way you introduce yourself to people so it should reflect your skills and experience in a clean, readable, and efficient way.
Do not oversell your skills to prospective project supervisors. It's important that you convey your skills as they are so that your project supervisor can help you set real achievable goals in the given time you have.
If you get a reply from a possible supervisor stating that they will not be able to supervise you in the near future (due to any reason) make sure to thank them for the time they spent replying to anyway and don't bug them again and again one they have said no.
Be mindful of the deadlines of various intern programs and scholarships.
Don't over commit. Sometimes we don't realize how many things we can take up at a time. Know how many things you can manage at a time and whenever you feel overwhelmed by the sheer number of deadlines at hand make sure to inform other people involved in the project/task so that they expect some delay from your side.
Hope this blog helps those of you out there thinking of pursuing a research internship during semester or in the summers. I tried to give an overall idea of the process of applying for a research internship and my personal experience with it. Feel free to reach out to me for any personal doubts you might have which were left unanswered in this blog, I will try to answer them to the best of my knowledge or direct you to someone who might be able to help you out better with your specific issue.
Edited by- Sandipan Mitra