Kanika Kukreja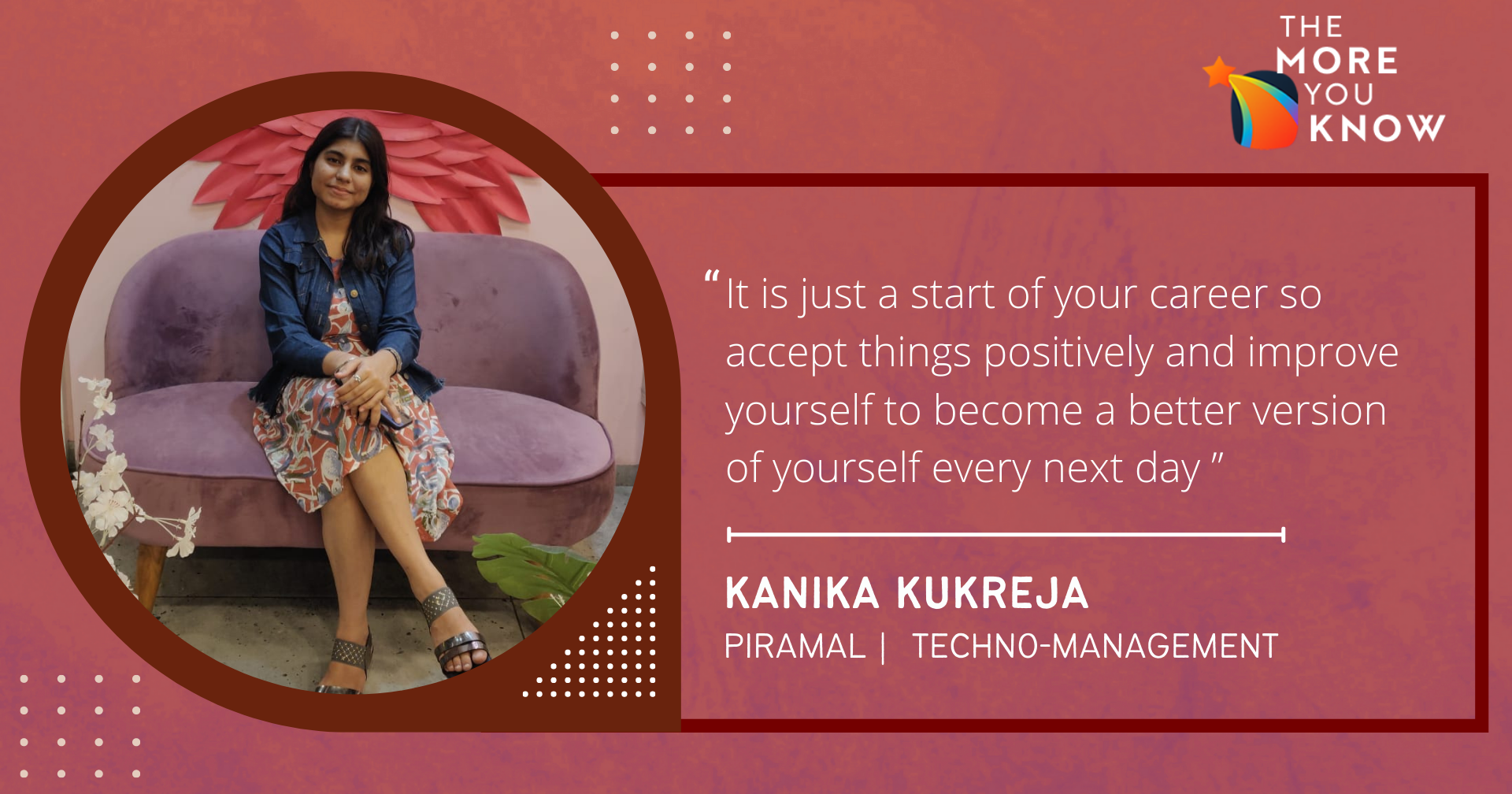 Introduction
Hi, I am Kanika Kukreja, a third-year undergraduate in the department of chemical engineering. I will be interning at Piramal Pharma Solutions in the Summer of 2022. In this blog, I will be sharing my selection process for an internship and a few tips regarding the same.
Being from a non-circuital branch, I was never too much inclined towards coding. I didn't enjoy it much and hence my main focus was on quant &  finance and core profile.
Since my second year, I have had a keen interest in finance. So, I did a project under the finance and analytics Club, IITk in my second-year summer. I also did one core chemical project under chemineers society, IITK which further gave a flavor to how core chemical engineering works in real life. I didn't have any internship experience till then.
---
Preparation
Talking of my interests and involvements, I was a part of the Finance & Analytics club, IITK. The club helped me to expand my knowledge in the field of finance and I got to know some talented people there. I also worked as a student guide and academic mentor under the counseling service which I am thankful for as it gave me a chance to be of some help.
So, I started my preparation for the internship season in mid-May. As stated earlier, I didn't have much inclination towards coding but since most companies visiting IITS are for software/ analytics one cannot just leave it. Hence, I started with the same. I hadn't even touched coding by then after my first semester(which I deeply regret….and would recommend you to stay in touch even after your first year)and so I took a long time in solving problems. I stuck to only one platform i.e interviewbit as it has a very organized sequence of topics and also has questions asked previously. I even watched some youtube videos(Aditya Verma's DP playlist specifically...I got this suggestion from a friend and the videos were really simplified and logically arranged). For the quant profile, I solved the 50 Challenging problems in probability which gave me a pretty good idea of probability. I also borrowed MSO 201 notes from one of my friends(I couldn't do that course and would recommend you to at least go through the notes )which gave me a pretty good idea of statistics too. I didn't do any specific preparation for the aptitude part but I would recommend you to solve 4 -5 mock tests of CAT or some related exam to have a grip on time management(it is very important in the aptitude section). In the last two to three weeks, I prepared for the core profile and worked on my resume(If you have done an internship previously, you can postpone this work a bit). I got my resume reviewed by 3 to 4 seniors and their suggestions were indeed helpful. For core chemicals, I revised my core courses i.e. ESO 201, CHE 221, and CHE 211(went through notes and read a bit about practical applications of various devices used on the web). I also participated in some mock GDs conducted by the Chemineers society which was also helpful.
Having said that, I will now describe my experience from the start of the intern season.
---
Selection Process
I gave many tests, but couldn't do too well in the coding tests. So, I became a little depressed in between and again geared up myself. Piramal came around 15th august for core profile and was open to only chemical engineering students. It brought a new ray of hope to me. I was always interested in the core profile and hence I found it to be a great opportunity. But the challenge was that it came to IITK for the first time and hence no one had a clear idea as to what was the selection procedure. Every year it went to other IITs like IIT Kharagpur, IIT Bombay, and IIT Madras(including IIT Delhi in 2020 and IIT Kanpur in 2021). So, you must go through this blog carefully if you are targeting the company.
So, the first round was the usual resume shortlisting. The second round was a gamified assessment(it had simple games to test speed and accuracy). After the gamified assessment around 30 students were shortlisted for the third round which was the GD. The GD was a bit different from the conventional one. Students were divided into panels. An excel sheet was shown on the screen for 2 minutes which had the name of students and three topics listed in front of each. Each student had one common topic and two different topics( the first one was different for everyone, the second was a brief introduction which was common for all and the third one was common for all which was a situation-based question). The first one had topics like -" What would you do if given a chance to become PM for a day", "MeToo is not good for the world", etc. After two minutes were over, the screen sharing was stopped and each candidate had to speak for two minutes (covering all three topics). They picked up names randomly and hence they expected each one to be prepared at the end of the two minutes (allotted for preparation and going through topics).
After this, around 10 students were shortlisted for the final interviews. The final interview had three interviewers two people for technical and one for HR. They asked me questions from core engineering(ESO 201 specially-like the working of Rankine cycle...so prepare it very properly). They asked some application-based questions (an ex- process taking place in drying of clothes is heat transfer or mass transfer). Some questions were also asked from 11th and 12th physical Chemistry(Electrochemical cell) and some questions were asked on my previous project(core chemical project).
HR asked me questions about my future goals and motivation to join the company. He also asked me about my family background and why I would be a good candidate for the position.
Finally, I and one of my classmates got shortlisted for the position
---
Some tips
Since the IITB curriculum covers heat and mass transfer before the third year (as told to me by other candidates), the interviewers were expecting the same from us. But they asked me whether I knew that topic before throwing any questions. So, It is very important to be honest and tell them if you haven't been taught some topic or are not able to recall something. I couldn't recall answers to a few questions at that moment so I told them very clearly the situation and they skipped that particular one. Remember, an interviewer doesn't expect you to be a master at everything but certainly expects the candidate to be confident and prepared in whatever he/she says.
The GD was of a different pattern and hence it is important to involve in mock GDs and work on your communication skills. Fumbling creates a negative impact and hence it's better to be simple and clear.
One personal piece of advice which I think is very useful is to not mess up with HR. Do not make stories until you can justify them well. The HRs have great mastery in catching a lie and it creates a very bad image if caught. Also, prepare for general HR questions in advance as the answers to these cannot be properly framed on the spot itself. Do read about the company and try to justify why you would be a perfect candidate citing what work they do and connecting them with the skills you have. It is always advantageous to have some info about the company(HR got impressed as I read about the company in a bit detail ...XD)
---
Conclusion
There will be a lot of hurdles, sad phases, exciting phases, and a thousand related thoughts throughout the intern season. The key is to have a good and supportive friend circle( stay far away from any sort of negativity), faith in yourselves, a healthy diet, and sound sleep. And, it is just the start of your career so accept things positively and improve yourself to become a better version of yourself every next day.
Therefore, concluding this blog I wish a very all the best to everyone preparing for the upcoming intern season.