Jaagrati Jain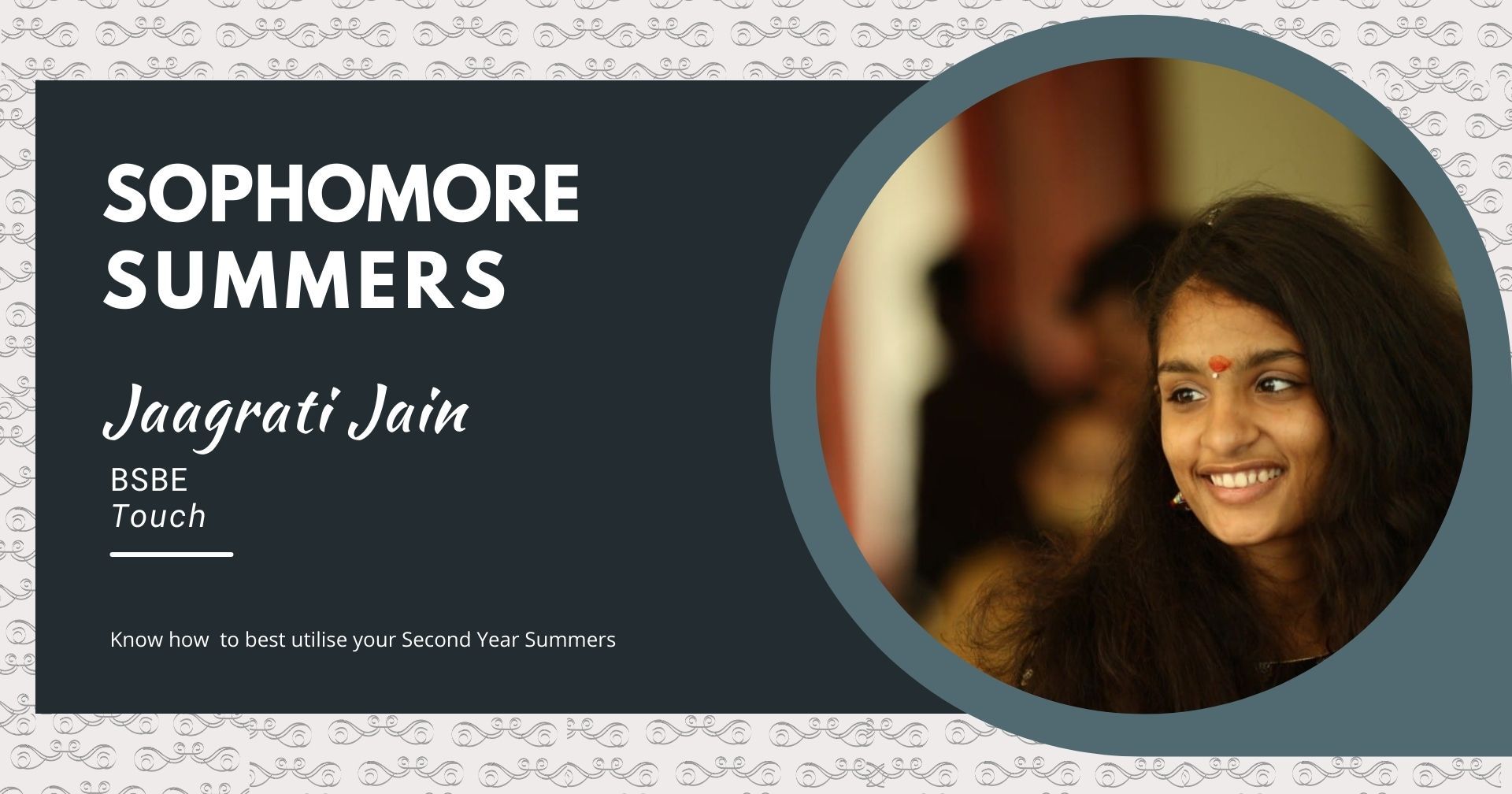 Hello folks! I am Jaagrati Jain, currently a third year undergraduate student doing my majors in Biological sciences and bioengineering. I did a summer internship in a New York based startup, Touch. The company came in SIP. So, Here is my experience for my interview.
Given the sea of uncertainties (not from the circuital branches, was also not among the students who are pretty sure about the sector they want to pursue in future, also not much interested in coding initially. ) in front of me, my goals used to change every month. I started discussing with the seniors from different domains. I realized that the best way to know is to live the life being in those shoes – simply explore them by jumping into random opportunities. I used to pay attention to the mails that used to come with the title – "Internship Opportunity". Honestly, that was my go-to for first year and luckily managed to get two interns, one in summers (Content Writing) and other in winters (Business Development). Many seniors suggested making a resume and adding points to that later. First draft always helps. Towards the end of my first year, I came to know about SIP. SIP (Startup Internship Programme) is held for second year students just like SPO is there for third year students. Many renowned startups come and hire students for the internship roles in summers. I thought preparing for this will give me motivation to practice the skills required.
Resume Making:
Best advice would be to start making a resume on Overleaf. There are templates available. Select a generic one and start making points. This will reduce the burden at the end. Also, having a resume in hand helps to apply for positions that come during the semester.
Coming to mine, I had two interns on my resume. I also did a summer project in Robotics Club and a CAD designing project under Aerial Robotics. Apart from these, I also added some minor things like participation in Takneek. I also elaborated about the Positions of responsibility I had.
A tip here- Before starting with the resume, write rough points in a notebook. Include the smallest points you did. You never know which point will help you nail the interview. Also, make sure you aren't writing a point that you don't know about. Interviewer will ask the points in detail.
So, having a sound resume always helps.
Application process

There are few ways that you can go:
1. SIP – It's the path with least resistance. But the number of people getting an internship through this is less. This will give a close experience about how SPO interviews and tests are conducted. The job profiles they usually look at include majorly – Backend and Frontend Engineers, UI/UX, Data Science and some for-Business Development.
2. Mails: Your mail boxes will be flooded with mails that have internship openings.
3. Linkedin : This takes time and uncertainty involved is high. Try contacting the Alumni of our college only. There are high chances that they will respond and even give a whole idea of the picture.
I got my internship through SIP. Interestingly my company was the last one xD.
Preparation

The companies that come in SIP are like, some will be open for only CSE students, while some will be open for circuital branches (CSE, EE, MTH) and others are mostly open for all. If the company demands some special skills, then it can be focused for the particular branch (these companies are 1 or 2 in number during SIP). Most of the companies in SIP look for frontend and backend developers. There are some which look for business development. The pool of choices in SIP is a bit less and the competition is high. CPI matters for many companies in SIP. If you don't have a good CPI then you should have some other good things in your resume to overpower that. Winter vacation is the best time to learn and do some self-projects. You can add these self-projects in your resume. Prepare each and every point you wrote on your resume.
Interview
For my company, it was directly resume shortlisting. They didn't have any tests. They sent a form asking a few questions which were subjective and required brainstorming. The questions were inclined towards the goal of the company. I received the next notification about the shortlisting after 15 days.
I had two rounds of interviews – One was Technical and other one was Behavioral (HR). Both the rounds were 45 minutes each. In the technical round, they asked aptitude related questions. Since my firm is a financial firm, they asked me some basic concepts about money and Financial Independence. There was 1 open ended question also. They made a financial independence calculator, and it had some errors. So, I was asked to guess the possible reason and a solution to solve that. The behavioral round was kinda chill as it was more focused about me and how I process things. For the HR round you can prepare some generic questions from the internet.
Conclusion

In the end… It's always about exploring and finding the best one for ourselves. Experiences from others matter a lot to make sensible decisions but if that will fit in your frame or not- that can be best experienced by doing that. Second year is that time when you don't have much burden from academics, hence the best chance to experiment. The path will be clearer as you go on the roller coaster ride. Honestly, at the end everything will be sorted and you will get far above your expectations. You might feel that you are insufficient after giving the interviews. Focus on those areas and you will nail the next one.
All the best and cheers!!!!
---
Edited By:- Tanushree Jalewa