Debaditya Bhattacharya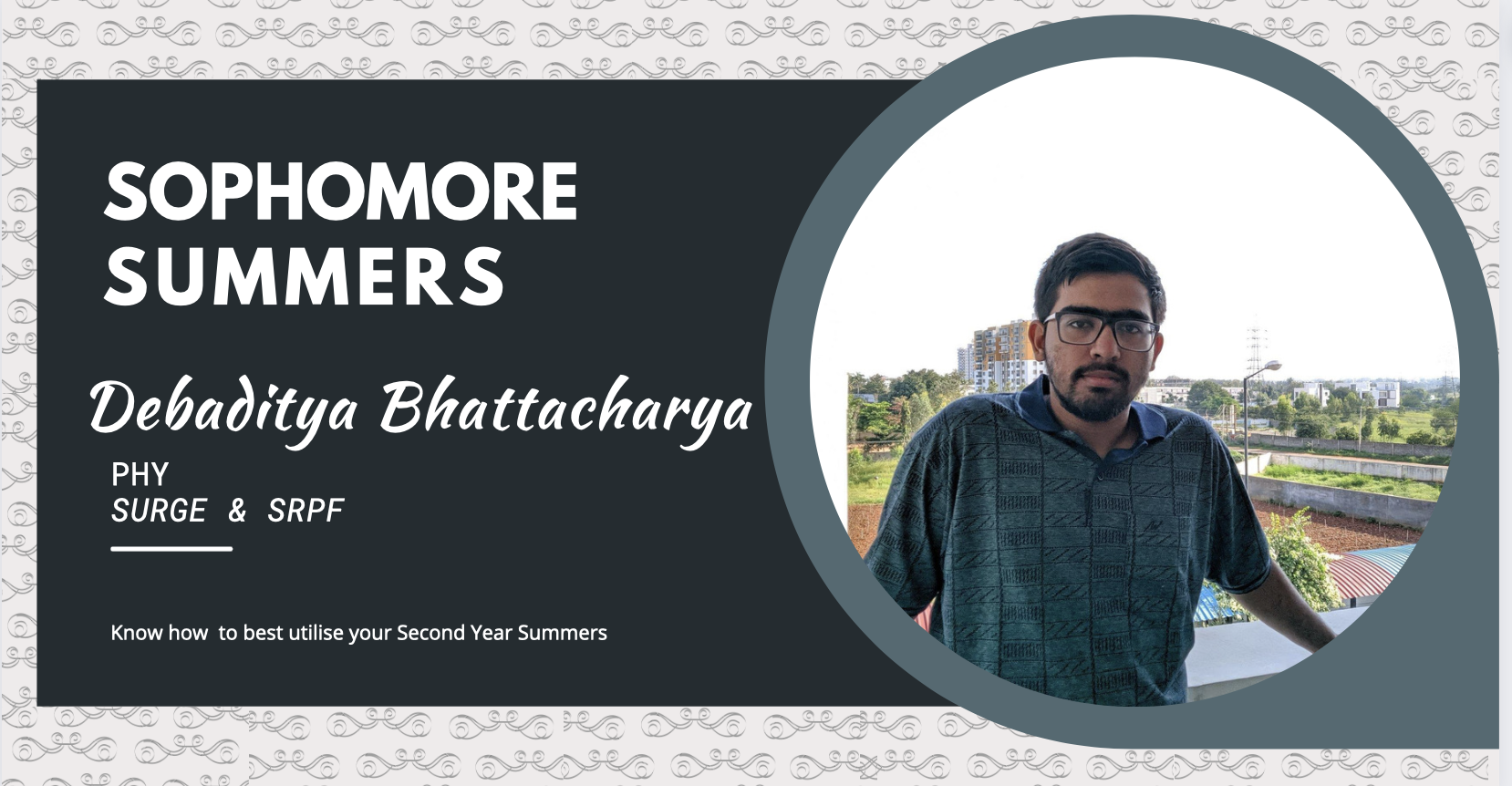 I shall be telling this with a sigh
Somewhere ages and ages hence:
Two roads diverged in a wood, and I—
I took the one less travelled by,
And that has made all the difference.
- The Road Not Taken, by Robert Frost
Choices. That's the first thing you get upon completing your JEE journey. At first, you need to choose your branch, your department, then this, then that. Before you know it, you're in your second year selecting courses, choosing clubs, and at this juncture, you're making the decisions that will, albeit not entirely determine but can shape your career. In my opinion, summers and winters are crucial periods because this is the point of time. You can explore the real world by doing internships. You can get a taste of research work. You can get a taste of work at companies. You can explore new domains you haven't dabbled with yet. All in all, the period leading to a satisfying summer internship can become quite daunting, but all you need is a calm mind and a whole lot of introspection to ask yourself the right questions.
Before we move on, I'd like to give you some background about myself. I'm Debaditya. A third-year (as of writing) UG Physics student at IIT Kanpur. Like you all, I have been quite a curious child, and nearly everything has piqued my curiosity. My fascination with everything, particularly gadgets, justified my choice of studying for JEE, followed by taking admission at IIT Kanpur's Physics Dept. Physics sounded like the most flexible field that would allow me to branch out to any topic at any point in time, which has treated me well so far. I have explored wildly different topics from neuroscience, ML/AI, computer programming, HPC, electronics, and physics. Now, I am studying Solid State Physics and Nanoelectronics.

I briefly began exploring electronics in my first semester when I took part in the Takneek events for E Club and was a member of the AUV's Electrical team. This was when the pandemic struck, and we were sent home and suddenly had lots of free time, which I invested into learning about Psychology and Neuroscience. I did multiple projects at IITK under BCS and worked with Dr Nitin Gupta (very briefly) and Dr K. M. Sharika. I was introduced to complex systems from neuroscience, and I started exploring bits and pieces of the same. I was introduced to Neuromorphic computing while preparing a lecture for a BCS session. I then reached out to Dr Shubham Sahay, who works in neuromorphic computing, and I started working with him once again in electronics, but with a flavour of neuroscience. Over time, I have gradually narrowed down my interests to "Things that can do computations." And under this domain comes neuroscience, electronics, computer architecture, quantum computing, photonics and many new topics that I am yet to explore.

Somewhere around last November, I had applied for IAS SRFP. To be very honest, I did not know why and what I was filling up for, and hence please take my advice for this specific part with a grain of salt. I was not too fond of the topics offered under my major, so I went ahead and applied to mathematical physics. Under project description, I had written a bit about complex systems and why I find it fascinating; despite the portal asking us to avoid writing general reports of the topic, I think it expects us to note why we are interested in the topic itself. Dr Nitin Gupta had provided me, a LOR for the IAS SRFP.
By February, I had forgotten about the SRFP application. I had pitched a project idea (Design of a neuromorphic neuron) to Dr Shubham Sahay for SURGE. Sir was willing to mentor it, so I filled in the SURGE documents. Sometime later, Dawood informed me that I was also selected for IAS SRFP by Dr Ram Rup Sarkar for work in Computational Physics (CFD Analysis of blood flow in microgravity conditions). Since the two dates were not overlapping, I did both internships.

In my SRFP internship, I learnt how to create Dissipative Particle Dynamics simulations in C++ and accelerate them using open ACC. I was able to achieve a 1000x performance boost compared to MATLAB code.

In my SURGE internship, I spent most of my time reading about various neuron types, semiconductor memory devices and designing an architecture for the neuron. It was a decent experience, but towards the end, I wasn't able to give it much time because it started overlapping with the coursework at IITK.

I apologize for my poor writing in the upcoming sections. They are just loose collections of thoughts that I had regarding the topics prompted for the letter.

Resume Making:
There are plenty of good guides, so I shall highlight some points frequently noticed missing in some of the CVs that I have made/have reviewed. Make sure you know what the person is asking for. Is it a Resume or a CV? A CV is a more detailed document usually reserved for academic positions. I haven't made a Resume, so I can speak only for CVs. Your CV is the second thing (first would be your email) that the employer/professor sees, so make sure it is polished well. Ordering in your CV matters. Make sure to arrange it in chronological order, especially highlighting projects/research work relevant to the application. Ensure you include all relevant details for all of your PORs, projects, details etc. Technical details are to be included as much as possible. The person reading your CV is likely to know abbreviations in your field already. Please highlight keywords as it makes the CV easier to skim through.

Make sure your CV is compressed. It shouldn't have too much white space. Make a master CV with everything. While applying, select items from your master CV relevant to your application. Rearrange your CV as and when required.

Application process:
As a Secretary at AnC's RWing, I found out about SRFP while building an internship database. I had also applied for SURGE. I got selected for both, and since the timings for both were non-overlapping, I went ahead and did both.

In my third year, I am still hunting for a research intern. I would suggest students to start applying early. (as early as August) for programs like DAAD. Keep an eye out for deadlines.

Cracking Interviews:
I did not have interviews in 2nd year. Third-year I have had interviews. Be confident; fake it if you must. Know whatever you have done well. Keep a presentation ready that talks about your achievements, research interests, and previous work. Make sure you ask the interviewer all relevant questions in the end(Accommodation, stipend, visa, travel, work, things to study beforehand, work culture, city culture, everything!)

All in all, please take all the advice in this post with the caveat that every person and experience is different. You should go ahead and talk to multiple seniors, read various blogs and come to your own conclusions regarding the same. You are only in your second year. You have plenty of opportunities to grow. Your internship is a sandbox where you can try out things. Don't be afraid to experiment with new topics and step out of your comfort zone.

Stay curious, stay hungry.
ज्ञान की गरीबी सबसे बड़ी
---
Edited By:- Tanushree Jalewa