Akshat Goyal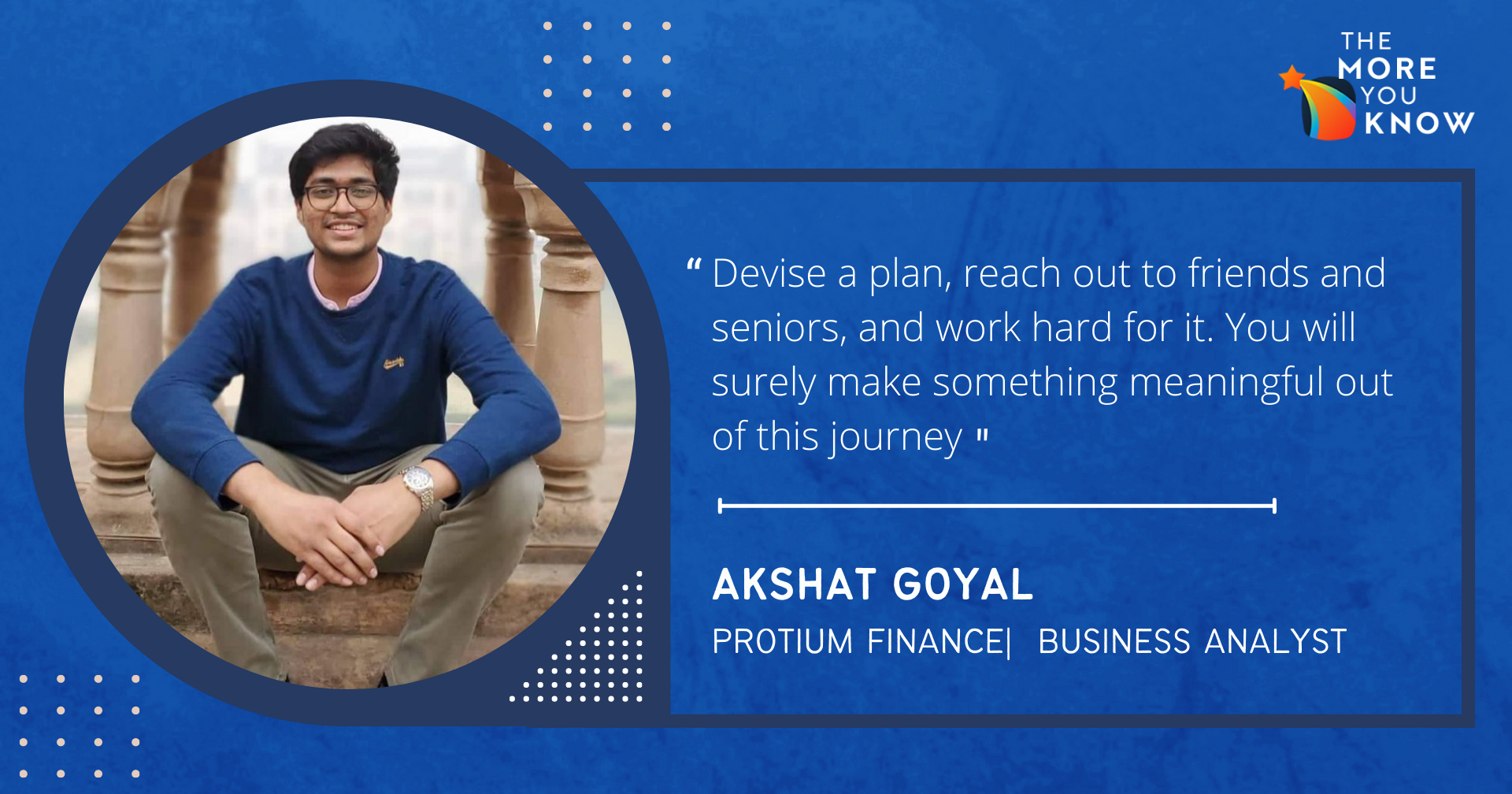 Introduction
Hi everyone!

I am Akshat Goyal, a Y19 at the department of Materials Science and Engineering. I am currently interning in their Business Analyst summer internship program with Protium Finance. When AnC reached out to me in regard to this blog, my first thoughts were "Did I even prepare for interns enough to stretch a blog of it?"
Some thinking and a look into the template and sample questions to answer by the AnC folks gave me some answers that I can write about here. Before I begin my background, preparation, and securing the internship, I'll like to call out all those people who 'think' they have a low CPI, non-circuital branch, and those who don't want to code (at least as preparation xD). This blog should give you some optimism.
To begin with, my background, as mentioned above, I come from the MSE department, a really great branch in itself, but a bummer in the corporate opportunities you could make out of it. If MSE fascinates you, reach out to me separately. Positions of responsibility that I took this year were Group Leader at IITK Consulting Group and Editor at Vox Populi. Other engagements I had were majorly in Finance and Analytics Club and AnC council, besides being a Student Guide. Over the summers, I did a SURGE project in Cognitive Sciences out of sheer interest and no anticipated outcome.

Managing all these PoRs and my SURGE application, I reached the end of my fourth semester with a CPI of 7.7. Not a decent enough number according to all the 'gyaan' I got through the 2 years. At this juncture, the peer pressure to code my way out of this summer was one that I did not take on myself, and started exploring the various options I had where 'coding' was not a requirement. Such opportunities through our SPO fall mainly in the techno-managerial domain and other fields like data science require one to go through basic MAT and aptitude tests. In hope that the techno-managerial firms open to MSE (like ITC did open for the Y18s) I began preparing for Group Discussions (GD) and revising MSO201A. This majorly formed the 'prep' I did over the summers besides my SURGE project and the Intro to Consulting Bootcamp I hosted for ICG. I developed an interest in management consulting, but finding roles relevant to the role at the intern level seemed totally impossible, so I kept the role out of my internship chances.
---
Preparation
Come the intern season, I devoted time to preparing the perfect resume I could send to companies. I would like you to do the same here, as, beyond the initial screening processes, your resume is what anyone knows about you. Do not put in information there that could raise a general discussion with the recruiters and you sit there with a blank face because you wrote the point with no background or depth of the topic. This is seen as a major red flag and you don't get a chance to revise your resume or points once submitted. Use the last week before the intern to run your resume through grammar checks, and aesthetic checks and show it to relevant domain seniors to take their advice on what could be placed where and how.

The intern season began and I selectively applied to only non-SDE opportunities. With obvious outs from Quant and Technomanagement, I had only Analyst roles relevant to my skill set. While I applied to some companies I think I liked, by this time when the SPO listed about 90 openings (about 35-40 open to MSE), I had applied only to 16 roles, and 0 interviews were given. Here is where I realized that maybe I should not wait for SPO to bring us opportunities, and should look off campus for internships that I would want to do, in the consulting and product and techno-management space.

For all those people who do not secure interns by mid-September, this situation comes around every year. But, it is important to keep your calm here and at this time only. I knew I would find relevant if not better opportunities through the off-campus route. I started databasing all the fields and companies that I could consider by searching through connections and alumni working there. By November, I had no luck with the SPO offerings, but I did manage to prepare a database of firms and startups that I liked and could consider applying to. I focussed at this point to work on my CPI and made my fifth semester my best one yet I bumped my CPI to 8.1, 'decent' now :)

With this development on my resume, and the December break ongoing, I applied to a consulting firm, Dalberg's internship program, and managed to make it to an interview there, post a resume shortlist and an aptitude test. In December, I geared up to give my first internship interview. As per my expectations from a consulting firm, I was taken through a guesstimate with the interviewer and I could solve it with a basic understanding of guesstimates I took from the IITB casebook and YouTube playlists referred to by all the Y18s I had been in touch with. I successfully cleared this round and was invited to interview for another round in January, which I gave from campus. But, unfortunately, I caught Covid in the campus breakout. This sent me to the Yoga Hall for a week to prepare and possibly give my interview from there. Anxious about this development, I went in there and prepared with seniors on call. At this point, I would like to thank Tushar Goswamy, a senior who has guided me through my journey with all the case preparation to date, and all the other general career advice I have sought. I prepared for the interview with him over call and hoped my interview day would be a normal one. But, on my interview day, I had to evacuate the Yoga Hall once again and take the residents back to my hostel room. After all the checks and a ride back to the hall, I reached my room a couple of hours before the interview. I gave the interview but some hesitation and panic from my end got me out of the running in this round. I returned to the database and other options I had, in the middle of January.

This is when SPO began its second phase and company listings started with Protium itself. They came to hire for a business analyst and data engineer roles and I went ahead and applied for the first one only, simultaneously looking for roles in consulting and product off campus. I was invited to a fit and case interview with Protium and this put me some anxiety as I had just blown a case interview the previous week. But I skimmed through some of the resources I used and went in for my first on-campus interview. Again a guesstimate and I could work around it with much ease this time due to the previous guesstimate interviewing experience. I cleared this round and was invited to interview for another round which was a general discussion and product case interview with their VP-Product. I cleared this round as well and got selected for the role of Business Analyst!
---
Conclusion

Looking back and drafting my journey, I can identify some important learnings and takeaways I had from the internship season.
The first and foremost thing I would like anyone reading this to do is to use their college experiences to identify what they like. Jobs in coding and software development shall be abundant for a long time, and jobs in the product and consulting fields shall always be near zero (at least from the SPO intern season). But you should make conscious decisions on what you want and what you don't want from your internship. It is the easiest decision to say you don't want to code, but take this decision only after exploring coding beyond ESC101A. As with other fields, use the summers of your second year to do something relevant for your interns, and also take up some relaxing activities to cool off. The third year and the intern season only add the burden to your lives you may have felt through your ESO/SO courses. The summers sure are times to prepare for your interns but taking up some activity that you are passionate about now will also help you remain calm and composed once the chaos is all on. Another thing to note is that it is never late to get an internship. You have 7 months even after September to get an intern. After a point, you may feel that it's just you running in this race all alone and you're not accustomed to running in races with less than thousands and millions of people competing, this is when you have to realize that sticking along and not giving up is the most critical step. Devise a plan, reach out to friends and seniors, and work hard for it. You will surely make something meaningful out of this journey :)
Should you have anything to discuss specifically with me, then do reach me on any social media platform and work hard to gear up for an eventful summer and an even eventful life ahead!