Aarjav Jain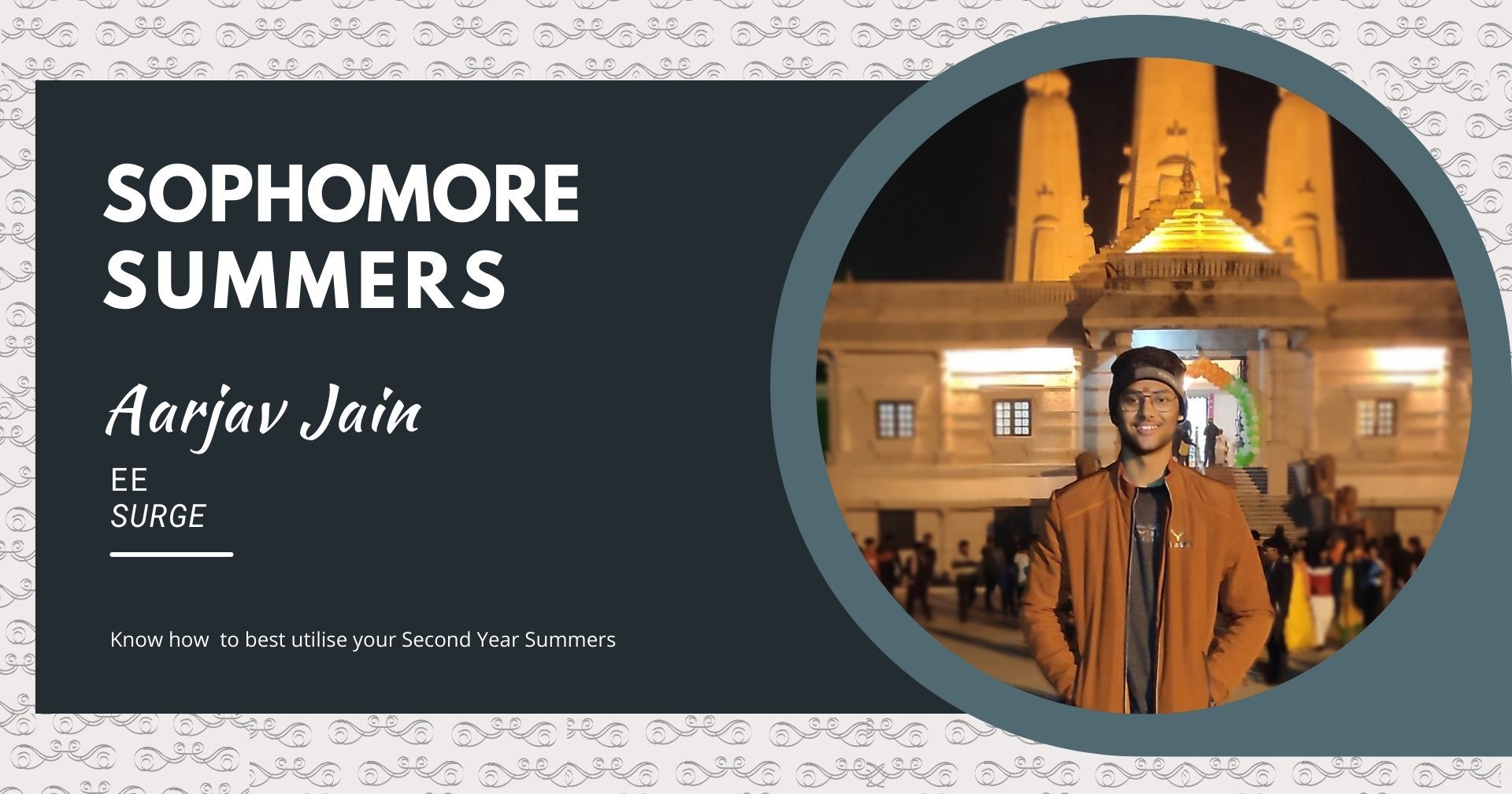 Hello, I am Aarjav Jain, a 3rd year Y19 in the department of Electrical Engineering. In this blog, I have detailed my experience of second-year summers, especially the SURGE internship that I did under the guidance of Prof. Ramprasad Potluri of Electrical Engineering.
Disclaimer: The things mentioned in this blog are highly based on my perspective and opinions so readers are requested not to take them as the basis for their preparation as it might not work for some of them. if they intend to, then do it at their own risk xD.
Introduction
Starting with a bit about myself - I am the kind of person who loves to explore different fields. I tried various things like robotics in Takneek, Dance in Galaxy, volunteering in fests, and much more in my first year. This attitude of mine motivated me to have experience in research as well. So, I applied for SURGE intern, but before diving deep into the story, let us first know what SURGE is and how to apply for it.

A bit about SURGE
SURGE stands for Students-Undergraduate Research Graduate Excellence (SURGE) program. It is a research internship program where students from all over the country do research internships under the guidance of Professors of IITK. For getting an internship in SURGE, you need to approach profs and request them to be your mentor. Along with this, you need to get a letter of recommendation(LOR) from two professors of your college (this year, only one LOR was sufficient due to the shallow interaction of students with profs in online mode). Since we are from IIT Kanpur, it is far too easy to get an internship in SURGE than another college student.

Now my Story
With the start of the 4th semester, the AnC council conducted some sessions on internship preparation. A Resume-making session was one among them in which I got to know about the advantages of doing projects under profs in internships and placements. I was also thinking about exploring the field of Controls and Automation a bit, so I mailed several professors mentioning my interests in it and waited patiently for their reply. As expected, only a few of them replied(one prof to be exact), then we started figuring out problems for the project of mutual interests. At the same time, I got to know about SURGE from one of my seniors(can be seen as one of the advantages of having contacts with seniors). I saw this as a great opportunity of having a research experience as this time, many of us start figuring out whether to go for research or corporate. So, I asked the professor to become my mentor for the SURGE intern, to which he agreed readily. Then, I needed a LOR from some professor. Actually, this was more difficult for us than finding a mentor as most of us did not even attend discussion sessions of courses(maybe due to online), so very few profs agreed to provide LOR, and that also when we have got A/A* in the course. Luckily, I got one.
As the endsems got over, I started planning for my summers. In my opinion, summers are the best time to explore different things related to your career or something else you want to do but can't due to the academic load during the semester. So, I wrote my goals on a whiteboard and made a roadmap to achieve them. I am not sure if it helps, but yes, it boosts your enthusiasm that time for sure, so you can give a head start to your journey at least. In my case, I had to prepare for the upcoming intern season(software dev+quant preparation), do some projects(SnT and self projects for me) to fill up my resume, manage the work of my POR, and do SURGE intern. I believe that it is constructive to get yourself surrounded by work so that there is no room for distraction left in your mind. Although your efficiency may affect a little bit as you are focusing on different things simultaneously, it is far better than wasting a part of the day on useless stuff. It was pretty easy to manage the things as Surge intern doesn't require much time commitment compared to corporate intern, what it requires is a peaceful and stress-free mind to focus on the problem at the time when you are working on it and patience to keep working on the problem whether you find it tiresome after some time(which was the case for many students including me) or you get stuck at some point. I gave most of my summers to internship preparation as it really needs time to learn competitive coding, and you need to practice a lot. I had lots of discussion sessions with profs, and it really boosts your spirit when you are explaining something to a professor. The internship ended with me submitting the final report of my work in the past two months. More than having a research experience, having a good bonding with the professor was a more valuable thing that I gained through the program.

For the people planning to apply for SURGE in the next term, I want to advise that apply if and only if you really want to gain some experience in research because having SURGE intern as work experience makes a very little difference or no difference in resume shortlisting except for filling up white spaces. If you want to do something to outshine your resume, you can do an internship in a startup. However, it is not recommended for those who are entirely dependent on summers for coding and other roles preparation as it will take a significant portion of your summer. Besides, you can do a small project related to the role you are preparing for under some professor or you can try for GSOC as well. Still, if you are doing SURGE for having some research experience, please keep pushing yourself even when you find it boring, it happens with most people, including me. While SURGE may not have enough weightage in corporate intern/placement shortlisting, it increases your chances of getting a research intern in some foreign university by many folds as you might get a paper published at the end of your intern which is a significant achievement at this level, and also you have a good connection with a professor which is really a helpful thing if you are aiming for research as a career or in getting projects.

For students sitting for SPO internships in the next session, I would say that use your summers efficiently. If you have worked hard in the right direction during your whole summer term, believe me, you will get a feeling of immense satisfaction whenever you look back to that summertime, whether you get an internship or not. At the same time do not leave everything for summer, start from today as the ideal time to start was yesterday, today is already late. Do not hesitate to approach seniors for help, having good guidance plays a crucial role in your preparation. And lastly, don't panic if you don't get an internship. Having a good intern may make it easier for you to get a good placement, but it's not the necessary condition for the same, I know some alums who have got placement without getting an intern. What really matters is the experience you take from this journey, so start planning to make the best out of the time available to you as SUMMERS ARE COMING!!

Also, feel free to drop me a message if you want some guidance or help, I will be more than happy if any of my advice will be of any use to you.
All the best!!
---
Editor:- Vaibhav Goyal